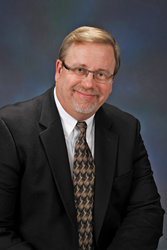 Colorado Springs, Colo. (PRWEB) March 13, 2014
Lee Geysbeek, Compassion International's radio marketing director, has been elected to the National Religious Broadcasters board of directors, class of 2017.
Before joining Compassion in 2009 as the Radio Marketing Director, Geysbeek served as the Senior Vice President of Broadcasting at Cornerstone University Radio (WCSG, Mission Network News and His Kids Radio) for 35 years.
In addition to National Religious Broadcasters, Geysbeek currently serves Cornerstone Alumni Association and Keys for Kids Ministry (Children's Bible Hour) boards. He resides in Grand Rapids, Mich. with his wife Janice. Together, they have three children and eight grandchildren.
About Compassion International
Compassion International is the world's leading authority in child sponsorship. Compassion revolutionized the fight against global poverty by equipping the Church to develop children out of poverty to become responsible and fulfilled Christian adults. It is the only child sponsorship program to be validated through independent, empirical research. Today, Compassion partners with more than 6,000 Christian churches in 26 countries to release more than 1.4 million babies, children and students from poverty in Jesus' name. Compassion has been awarded the highest rating for financial stewardship and transparency for 12 consecutive years by Charity Navigator, America's largest charity evaluator. For more information on the ministry, visit compassion.com or follow on Twitter at @compassion.
About National Religious Broadcasters
National Religious Broadcasters (NRB) is a unique gathering of people, united by purpose and message: to proclaim the Good News of eternal life through Jesus Christ; to transform culture through the application of sound biblical teaching; and to advance biblical truth, to promote media excellence, and to defend free speech. NRB is a non-partisan international association of committed broadcasters and Christian communicators coming together to spread the life-changing Truth of the Gospel of Jesus Christ through every electronic medium available. Our member outreach touches every continent through Christian radio, television, Internet and other media arts. We hold deeply-rooted beliefs that religious liberty is the cornerstone of a free society, and that we must protect those freedoms so that the transforming reality of Jesus Christ can reach hearts and minds the world over. We provide our members with important resources and effective tools to help them reach their mission goals. NRB also fosters unity among its members, promoting their passion to share knowledge and find solutions to challenges, thereby increasing excellence in their craft. The association protects access to the world's electronic and digital media, ensuring that the Gospel goes out unimpeded to reach the four corners of the earth.