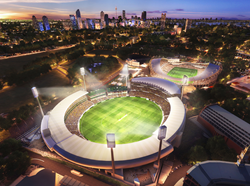 Denver, Colorado (PRWEB) March 15, 2014
The Boys of Summer are back. This despite old man winter continuing to pound the nation with record-level snow and bone-chilling temps. What's more, Opening Day takes place down under this year, as the 2014 regular season officially hits the field on March 22 at the storied 40,000-seat Sydney Cricket Ground established in 1848.
This year's opening game features the Los Angeles Dodgers and Arizona Diamondbacks, and it will be the first MLB contest played in Australia in 100 years. Nine days later, traditional Opening Day in America is on deck with 14 games, including 10 divisional match-ups, set for Monday, March 31, 2014.
Nine games are scheduled for Tuesday, April 1st, including the season debuts for the Houston Astros and the New York Yankees at Minute Maid Park. The final day of the 2014 regular season will be Sunday, September 28th and will feature 12 divisional games.
"MLB Baseball owns the best season attendance of any sports league in the world.," said Marta Ault at online ticket marketplace BuyAnySeat.com. "Currently, Monster Jam, the Harlem Globetrotters, Monster Energy's AMA Supercross and PBR rodeo are the top sports ticket sellers, followed by the New York Yankees."
"That's why we're proud to offer sports fans the most comprehensive and continuously updated selection of sports tickets online, with a worry-free guarantee to protect their purchase," said Ault
"To access the full line-up of MLB Baseball tickets now available, customers can go to BuyAnySeat.com and search for the MLB Baseball – then select their tickets."
According to mlb.com, the past ten years have seen the largest attendance numbers in history. More than 74 million people attended big league games in 2013, the sixth-highest attendance of all time. Eight clubs surpassed the three-million mark, while 15 eclipsed the 2.5-million mark, up from 13 in 2012.
The eight to reach three million have all done so in consecutive seasons, including the Yankees in 15 straight, Angels and Cardinals over 10 years, Phillies over seven, Giants during the past four, and the Dodgers, Rangers and Tigers in back to back years.
Baseball's history in Australia goes back more than 150 years. This year's Opening Day game will mark the 100th anniversary of an exhibition game played by the Chicago White Sox and the New York Giants on the same storied cricket grounds on January 3, 1914. The White Sox defeated the Giants, 5-4 before 10,000 fans. (Source: mlb.com).
MLB has previously opened seasons in Monterrey, Mexico (1999); Tokyo, Japan (2000, 2004, 2008, 2012); and San Juan, Puerto Rico (2001).
This year's 162-game season, split between home and away games for each of the sport's 30 teams, runs from March 22 to September 28. That adds up to 2,430 games yet to be played in this year's regular season, not counting the up to 20 postseason games the World Series finalists might play. The Boston Red Sox are the reigning World Series champs having clipped the St. Louis Cardinals 4-2 last October.
Other important dates this year include Jackie Robinson Day on Tuesday, April 15; the first day of the 2014 MLB Draft on Thursday, June 5; and Baseball's 85th All-Star Game at Target Field in Minneapolis on Tuesday, July 15.
To shop for MLB Baseball tickets, visit BuyAnySeat.com.
About BuyAnySeat.com: An online ticket marketplace, BuyAnySeat.com connects sports, theater and other live entertainment fans to an extensive network of ticket sellers worldwide. The site's simplified listings and navigational tools enable shoppers to easily locate, compare and purchase inexpensive, discounted or lower-priced tickets to virtually all advertised sports and entertainment events around the globe.
The ticket marketplace, which is PCI-compliant and Norton Secured, also provides customers with a complete Worry-Free Guarantee on all ticket purchases. Based in Denver, Colorado, BuyAnySeat.com is a subsidiary of Denver Media Holdings. For more information, please visit http://buyanyseat.com.