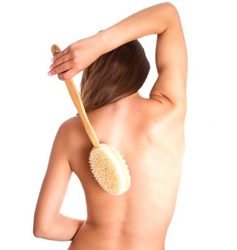 'Dry Skin Brushing offers benefits for well-being and beauty, and is very simple to do,' says Kathy Heshelow, founder of Sublime Beauty®.
St. Petersburg, FL (PRWEB) March 17, 2014
Skin Brushing is a powerful way to better skin and well-being. Sublime Beauty® is a big fan of Skin Brushing, and its original bush with long handle is now back in stock.
"Models and actresses are enthusiastic about Skin Brushing," says Kathy Heshelow, founder of Sublime Beauty®. "Salma Hayek, Miranda Kerr, Stacey Keibler and Molly Sims are but a few who have spoken about the benefits."
"Our brush is a great tool for daily skin brushing," says Kathy Heshelow, founder of Sublime Beauty®. It includes a dual head to include cellulite massage as well. Our Cellulite Whisperer products are popular, and so our brush has a dual purpose."
Body brushing is an ancient art, practiced in Egypt, taught at the medical school in ancient Greece and through the ages. But it fell out of common knowledge in recent times.
Skin Brushing accomplishes a number of tasks:
1) Clears skin of dead cells and toxins. Skin is the largest organ of elimination. Keeping the skin clear and healthy is essential, especially as we age and are less able to throw off those cells.
2) Skin Brushing helps to boost the blood circulation.
3) Skin Brushing also helps to support the immune and lymphatic systems.
4) Skin Brushing can keep cellulite at bay.
5) Skin Brushing can boost our mood.
"We have a website devoted to Skin Brushing," says Heshelow, "along with tips on how to brush and videos. We also include customer testimonials. In addition, purchasers of the Skin Brush get a 6 page brochure by email after purchase."
The brush with long handle and the portable brush with pouch are available at both Amazon and SublimeBeautyShop.com.