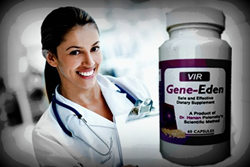 We recommend that individuals with genital warts speak to their doctors about Gene-Eden-VIR. This natural antiviral was designed to help the immune system target the latent HPV virus. - Mike Evans, polyDNA
Rochester, NY (PRWEB) March 18, 2014
polyDNA found that only 44% of respondents knew about Efudex (fluorouracil), a topical ointment, which "interferes with the growth of skin cells." (See Drugs.com, last revised on October 7, 2013) (1). Some doctors prescribe this topical drug to fight internal vaginal warts even though the FDA has not approved fluorouracil for this purpose. These doctors prescribe it because the drug works by "causing the death of cells which are growing fastest, such as abnormal skin cells (1)." However, "Using fluorouracil to treat genital warts is an unlabeled use of the medicine." (See WebMD, last updated June 21, 2012) (2). WebMD notes that "An unlabeled use of a drug is when a doctor prescribes a medicine for a purpose other than that for which it has been specifically designed and approved. Sometimes a drug is prescribed for a specific unlabeled use so often that doctors consider it a common practice." (See WebMD, from March 9, 2012) (3).
If a doctor prescribes Efudex, it is likely because other treatments have failed. "Fluorouracil is not the first medicine doctors recommend for genital warts. Fluorouracil may be used at home after a doctor shows you how to apply it. Fluorouracil may be most useful for treating warts on the vulva, penis, and anal area and at the opening to the urethra (2)."
"Fluorouracil may initially remove warts, but studies have not completely evaluated its effectiveness (2)." In addition, the drug has a number of side effects. These include "Redness and swelling of normal skin, burning feeling where medicine is applied, increased sensitivity of skin to sunlight, itching, oozing, skin rash, soreness or tenderness of skin, scaling, and watery eyes (1)."
"There are no drugs approved against the HPV." (See Pharmacology & Pharmacy, published in September 2013) (3). Gene-Eden-VIR is a natural antiviral proven to reduce HPV symptoms in a post-marketing clinical study that followed FDA guidelines.
"We recommend that individuals with genital warts speak to their doctors about Gene-Eden-VIR. This natural antiviral was designed to help the immune system target the latent HPV virus." - Mike Evans, polyDNA
A recent post marketing clinical study published in the peer reviewed, medical journal Pharmacology & Pharmacy, in a special edition on Advances in Antiviral Drugs on August 12, 2013 showed that Gene-Eden-VIR is safe and effective (4). Additionally, up to 70% of those studied reported a decrease in HPV symptoms (4).
Each ingredient of Gene-Eden-VIR was chosen through a scientific approach. Scientists scanned thousands of scientific and medical papers published in various medical and scientific journals around the world to identify the safest, most effective natural ingredients that target the latent form of HPV (4).
To learn more about Gene-Eden-VIR and HPV, visit http://gene-eden-kill-virus.com/HPV-Remedy.php. All orders of Gene-Eden-VIR are completely confidential, and no information is shared or sold to any third party. Privacy is assured.
Reference:
(1) Drugs.com - Efudex. Revised October 7, 2013.
http://www.drugs.com/mtm/efudex.html
(2) WebMD - Fluorouracil (5-FU) for Genital Warts (Human Papillomavirus). Last revised on June 21, 2012.
http://www.webmd.com/sexual-conditions/hpv-genital-warts/fluorouracil-5-fu-for-genital-warts-human-papillomavirus
(3) WebMD - Unlabeled Use. Last Revised on March 9, 2012.
http://www.webmd.com/hw-popup/unlabeled-use
(4) Gene-Eden-VIR Is Antiviral: Results of a Post Marketing Clinical Study. Published on August 12, 2013.
http://www.scirp.org/journal/PaperInformation.aspx?PaperID=36101
polyDNA is a biotechnology company that develops dietary supplements using the unique scientific method developed by Dr. Hanan Polansky, which is based on Computer Intuition.
In addition to his unique scientific method, Dr. Polansky published the highly acclaimed scientific discovery, called Microcompetition with Foreign DNA. The discovery explains how foreign DNA fragments, and specifically, DNA of latent viruses, cause most major diseases.
polyDNA developed Gene-Eden-VIR , an antiviral natural remedy that helps the immune system kill latent viruses.