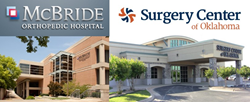 Dedicated price list pages give patients current, up-to-date prices for a growing number of healthcare facilities.
American Fork, Utah (PRWEB) March 18, 2014
Pricing Healthcare announces today the availability of dedicated price list pages for McBride Orthopedic Hospital and the Surgery Center of Oklahoma on its site, PricingHealthcare.com. The highly sought-after information is free both for registered users and guests.
Pricing Healthcare began collecting and publishing single-provider price lists earlier this year, and is ramping up efforts to add self-pay pricing data on large and small healthcare facilities nationwide.
The Surgery Center of Oklahoma has been a leader in price transparency since it published prices in 2009 for around 100 common surgical procedures. Posting their prices on Pricing Healthcare's site allows the surgery center to expand its visibility and customer base more broadly, and to gain early positioning in a new transparency marketplace.
The surgery center's price list is a significant addition to Pricing Healthcare's site. Dr. Keith Smith's efforts around transparency have garnered a great deal of attention over the last few years, and have spawned other providers to share prices in Oklahoma City as well as nationally.
In addition to sharing name and description information on the services it provides, the surgery center also publishes CPT® codes (visible to logged-in users) for almost all procedures listed (more than 150). The CPT code set is a standardized numbering system that allows providers, payers, and consumers to reference procedures in a common language.
McBride Orthopedic Hospital is the first hospital with price list data on Pricing Healthcare's site, including pricing on more than 100 procedures. The specialty hospital has received recognition at the national level by Press Ganey Associates, Inc.
Press Ganey, recognized for 30 years as the leader in performance improvement, awarded McBride in 2013 with the Beacon of Excellence Award and the Guardian of Excellence Award, two of the most coveted awards in healthcare.
Pricing Healthcare is pleased to present information for both institutions, each recognized for affordability and high quality care.
PricingHealthcare.com's dedicated price list hosting gives consumers access to procedure prices for multiple facilities, all at the same location and with a common user interface. Hospitals and facilities also benefit. The site's price list feature is a simpler and more cost effective way for providers to offer greater price visibility to consumers, while still maintaining control over the display of their data and messaging. It also improves patient satisfaction and strengthens a provider's image in an increasingly critical and public-facing space.