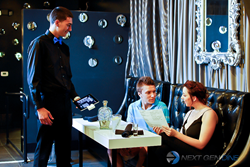 Las Vegas, Nevada (PRWEB) March 19, 2014
Next Gen Dine restaurant point of sale by Prelag Partners LLC now offers gift card features. With the new gift card feature, merchants can sell gift cards and process them directly on the tablet point of sale.
Next Gen Dine makes it easy for restaurants to offer gift cards. Gift cards are especially popular during the holiday season and prove efficient to keep business booming.
With this new gift card feature, patrons can buy gift cards of any value designated by the restaurant and gift them to friends and family members.
Next Gen Dine is the future of restaurant dining. For more information about the point of sale system or to find out how your restaurant can take part of Next Gen Dine, contact Paul Roberts, Managing Partner, at 1-877-342-2218 or e-mail. Connect with us on Twitter, Facebook and LinkedIn.
About Next Gen Dine
Next Gen Dine is a cloud-based, mobile restaurant point of sale software designed for the iPad. Restaurant owners can now capitalize on the benefits of a full-featured POS system for a fraction of the cost of a traditional POS. Due to the mobility offered by the software, employees can take orders directly at the table, take credit card payments at the customer's side, and drastically improve restaurant operating efficiency. Orders placed are sent directly to the appropriate prep station, therefore decreasing order turnaround time. Next Gen Dine also offers restaurant owners customer loyalty, gift card, social media, and fine- grained marketing tools.