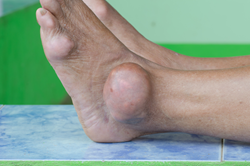 Gout is an extremely painful problem which is caused by the build-up of uric acid.
London (PRWEB UK) 19 March 2014
Gout is caused by a chemical in the blood called uric acid, which is usually harmless and made in the body, but if the level gets too high then grit-like crystals of acid are formed causing irritation and swelling in the joints.
Superintendent Pharmacist at ChemistDirect, Omar El-Gohary, said: "Gout is an extremely painful problem which is caused by the build-up of uric acid. Another silent cause is drinking too many sugar-sweetened drinks, with research finding that having just a couple a day increases the risk of gout by 85%."
Gout is historically regarded as a disease associated with wealth, owing to its link to eating and drinking too much. While these factors still contribute to the symptoms, doctors have now found that high blood pressure, diabetes or kidney problems can also cause gout.
Gout usually occurs in attacks and is much more common in men. It usually causes severe pain in one joint, with the base of the big toe being the most commonly affected joint.
Research by the University of Nottingham found that 2.5% of 4.5 million people in the UK are affected by gout. The ratio of men to women was 11:2 between the ages of 35 and 39.
The research also found that in the last 15 years, there had been a significant rise in people affected by the disease – a 64% increase, going up around 4% each year. http://bit.ly/1i9pILe
Experts also found that only one in five patients were being prescribed suitable drugs within six months of their diagnosis. One in four decided to start treatment a year after diagnosis indicating they failed to recognise the seriousness of the condition.
El-Gohary added: "As well as cutting down on red meats, which contain high levels of uric acid, and maintaining a healthy diet, a natural supplement such as CherryFlex, which is incredibly high in antioxidants can help to excrete uric acid. It also contains Melatonin which helps sufferers to relax and help the pain to subside."
CherryFlex contains 100% natural active ingredients, equivalent to 450mg of Montmorency cherries. The high level of anti-oxidants in it can help reduce both uric acid levels and joint swelling as well as general joint discomfort.