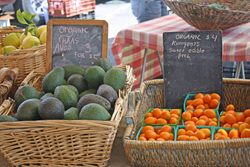 Natural affinity and influences of terroir are celebrated daily.
Temecula, CA (PRWEB) March 19, 2014
"In Temecula Valley Southern California Wine Country, fresh, local, innovative, artisinal, and sustainably grown, farmed, and ranched foods, and meticulously and intuitively handcrafted wines are always in season. Nine destinations to experience are Cork|Fire Kitchen, Wilson Creek's Creekside Grille, E.A.T.–Extraordinary Artisan Table, Callaway's Meritage, Palumbo Family Vineyards & Winery, Palumbo's Ristorante, Restaurant at Ponte, Temecula Olive Oil Company, and South Coast's Vineyard Rose," announced Kimberly Adams, Temecula Valley Convention & Visitors Bureau president and CEO. "Natural affinity and influences of terroir are celebrated daily. Midweek is especially ideal; less-busy weekdays provide potential opportunities to converse with chefs, winemakers, and artisans. Hotels' and resorts' better-than-weekend, Sunday-through-Thursday, nightly rates are also appealing."
Welcoming 2 million visitors yearly, picturesque Temecula Valley is a boutique getaway and vacation destination 60 minutes from San Diego, Orange County, and Palm Springs; 90 minutes from Los Angeles and Hollywood.
1-Cork|Fire Kitchen: Temecula Creek Inn.
Surrounded by 350 acres/141 hectares of rustic beauty, new Cork|Fire Kitchen resulted from a $2.5 million transformation. Dining is down-to-earth, satisfying, and refined. Menus are made-for-sharing and highlight sources like Crow's Pass Farms, Temecula Olive Oil, and Cook Pigs Ranch. Dine indoors or on the outdoor deck with golf course and mountain views.
2-Creekside Grille: Wilson Creek Winery.
Growers and producers of Temecula Valley AVA (American Viticultural Area) wines the 93-acres/38-hectares are also home of famed almond sparkling wine. Creekside Grille offers alfresco dining with fresh, local cuisine, vineyard views, current Estate vintages, and certified GREAT gluten-free fare.
3-E.A.T.–Extraordinary Artisan Table.
Slow Food champions and advocates for small farms and ranches, E.A.T. loves cooking with fresh, local, sustainable foods because flavors are so bold and true. The casual, friendly eatery diligently creates healthy dishes that are 90% naturally gluten/grain free like Paleo/Grain-Free Bowls.
4-Meritage: Callaway Vineyard & Winery.
At New York City's Waldorf Astoria in 1976, Her Majesty, Queen Elizabeth II (not known to be a wine drinker) requested a second glass of Callaway Estate premium varietal wine. Then as now, Callaway Temecula Valley AVA wines are well balanced with fresh fruit flavor and round body. Meritage uses fresh, local, sustainable, grown on-site and organic ingredients to create tapas, salads, and entrées accentuating Callaway wines' crisp character.
5-Palumbo Family Vineyards & Winery.
Known for exceptional quality, the artisinal winery handcrafts Temecula Valley AVA wines from grapes grown on the 13-acre/5-hectare Estate vineyard. Exclusively by appointment, guests learn of stylistic influences, terroir, sustainable farming practices, and hands-on small-lot winemaking with the private Barrel Tasting, Tour, and Lunch.
6-Palumbo's Ristorante.
Using the freshest ingredients, authentic family recipes, and techniques with modern twists, Palumbo's Italian cuisine is meticulously prepared. Sauces, soups, sausage, meatballs, ravioli, gnocchi, focaccia, bread for bruschetta, tiramisu, and cannoli are freshly house made; all meals are made-to-order. Palumbo's also features Temecula Valley wines.
7-Restaurant at Ponte and Bouquet: Ponte Family Estate.
Located on 310-acres/125-hectares, guests dine amongst the vines. From farm-to-plate-to-vineyard, Ponte is committed to environmentally friendly experiences. Cuisine is prepared with fresh, seasonal, sustainably sourced, local, grown on-site and regional ingredients. Handmade pizzas are wood-fired using reclaimed estate grapevines. Ponte boutique wines complement meals.
8-Temecula Olive Oil Company.
TOOC is acclaimed for pure, flavorful, 100% California, 100% extra virgin olive oil. At the tasting bar in the original Old Town Temecula retail shop, guests savor fresh olive oil the way nature intended. Exclusively by advance reservation, visitors tour Olive View Ranch. The learning experience highlights sustainable planting, growing, harvesting; and cold pressing to extract oil from the fruit.
9-Vineyard Rose: South Coast Winery.
With 39-acre/16-hectare estate views, Vineyard Rose prepares California-contemporary wine-country cuisine with natural California beef, fresh seafood, local and regional products including Temecula Olive Oil and estate garden farm-to-fork. Reserve in advance for the five-course Chef's Table Dinner paired with South Coast wines.
Please note:
Less than 60 wineries are certified sustainable by the California Sustainable Winegrowing Alliance program of the Wine Institute and Winegrape Growers. Temecula Valley's three certified wineries are Palumbo Family Vineyards, Ponte Family Estate, and South Coast.
*Information is believed accurate but is subject to change.
TEMECULA VALLEY AND THE TEMECULA VALLEY CONVENTION & VISITORS BUREAU (TVCVB)
With natural gifts of climate and geography, Pu'eska Mountain, Rainbow and Santa Margarita Gaps, Temecula Valley is recognized for scenic vineyards, award-winning wines, and gracious wineries as Temecula Valley Southern California Wine Country. The popular destination also includes Downtown Old Town Temecula, Pechanga Resort & Casino, and Temecula Wine Country Golf Trail, and is home to three-time awarded California State Winery of the Year, South Coast.
The TVCVB, official regional tourism marketing organization and resource for visitors, is online at VisitTemecula.org; "Temecula Valley Southern California Wine Country" on Facebook; @Visit_Temecula on Twitter; and FilmTemecula.com. Temecula Valley Visitors Center is located in Downtown Old Town. For visitor assistance, call 888/363-2852 or 951/491-6085.
###