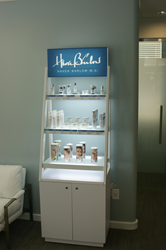 We are turning wait-time before appointments into a shopping experience.
Hartford, CT (PRWEB) March 20, 2014
Patients visiting a plastic surgeon or dermatologist can expect an enhanced experience while waiting for an appointment. MicroPharmacy® Corp. has successfully created and managed retailing environments in medical offices for over a decade. Petr Klima, the company's MicroRetail strategist, offers this observation: "After visiting countless cosmetic practices, most waiting rooms could benefit from a makeover of their own."
Promoting services and procedures with only pamphlets or the occasional poster may not be enough to truly showcase the practice. "Incorporating Medi-Store® Digital Displays within our retailing environments has proven popular and most effective," explains President and Cofounder, Peter Kostka. He continues, "We have created a visual advertising platform to educate patients on product offerings and treatments during the virtually unavoidable wait-time before appointments. We are turning that wait into a shopping experience."
The High Definition LED monitors guarantee the highest quality viewing experience, while Wi-Fi and wired-Internet integration provide the most updated streaming content customized to each office. Multi-location practices use a remote control capability to assure that all offices have consistent content streaming to multiple waiting areas.
"This new concept is a game changer for the medical retail segment," enthuses Mr. Klima. "Cosmetic patients perform much of their own research at home using the Internet. Offering additional in-office education via Medi-Store® Digital Displays allows the practitioner to promote services, products, and procedures to an already captive audience."
MicroPharmacy® Corporation is the global leader for in-office dispensing - creating and managing retailing environments within the medical office for more than 10 years.