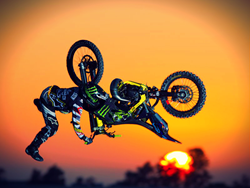 San Diego, CA (PRWEB) March 18, 2014
The new Xtreme Archive from Everything No Hands depicts the speed-loving, risk-taking tendencies of those who live life with "no hands". This new posts category gathers all the wild, exciting and dangerous activities featured in ENH galleries and puts them all in one place, making it much easier for thrill seekers to get to the "good stuff". EverythingNoHands.com, which is a new website dedicated to the pursuit of happiness through no handed activities, shows off its dangerous side in these new video posts and photo collections.
The new area on the website features extreme sports and stunts from all over the world – from crazy Americans taking wing suit flights through some of the craggiest sharpest mountains on earth and successfully surviving a pass through Tianmen Cave, to crazy Russian daredevils defying death and climbing the Shanghai Tower without ropes! The section is also home to some stunning photo galleries of RallyX, MotoX and snowmobile stunts. The new photo sectoion is just one of many that EverythingNoHands.com has released since the launch of the website earlier this year.
The new website is dedicated to all sports and activities that do not require the use of hands. Featuring everything from no-handed snowmobile stunts to amazingly skillful no-handed pole dancing poses, Everything No Hands does its best to keep visitors enthralled with the awesome, fun, crazy, sexy and sometimes bizarre world of living life with "No hands!"
The EverythingNoHands.com shop also offers some great clothing for those who want to express themselves or just want to get their hands on some shiny new shirts, a few of which are modeled by Alex and Courtney in the photo gallery. The store offers free shipping for all order of or above $50, as well as special offers extended to those who sign up for an EverythingNoHands.com account and join the mailing list. Everything No Handers may also like to join Everything No Hands' Facebook page to get their daily dose of fun pictures and website updates.
To see the hot new category, click here, or visit EverythingNoHands.com.