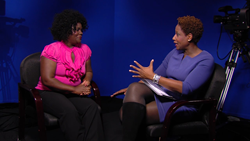 Salt Lake City, UT (PRWEB) March 19, 2014
Identigene customer, LaTeasha Carter, understood the importance of having a father in her own childhood and wanted the same for her grandson. She identified the man she believed was her grandson's father, becoming convinced after seeing his baby pictures on Facebook. An at-home DNA paternity test kit from Identigene later confirmed he was the father. He says he is "thrilled" to be part of this new family.
In a special video interview about her experience, Carter speaks with renowned psychiatrist and Identigene spokesperson, Dr. Janet Taylor, along with Identigene customer service representative, Toni Brady. Carter, who has custody of her grandson, says she wanted to find his father and complete his family. She used social media to research a man she thought had ties to her daughter. She messaged him after seeing baby pictures on his Facebook timeline that looked just like her grandson. She asked him if he'd be willing to split the $129 lab fee to find out if he was the father. He agreed and LaTeasha bought a kit at the drugstore. She and her grandson drove an hour and a half to meet the hopeful father and provide DNA samples with a cheek swab. Days later, Identigene test results revealed that he was indeed the biological father.
In the interview, Carter explains why it was important for her to find her grandson's father. "I think every child needs to know where they come from," said Carter, adding that identifying paternity has important benefits for dads, too. Carter says her grandson's father was "thrilled to know that he had a child" and wanted to take part in raising his son.
And what does Carter say to mothers or grandmas who are hesitant about paternity testing? She says, "Just do it. It's needed. It's a necessity and it fills a void—everybody needs to know where they come from."
Identigene realizes that answering paternity questions, like making any major life change, can be difficult. Steve Smith, executive director, says that's why the company partners with Dr. Janet and why they are featuring true stories of DNA paternity testing. "We hope that seeing LaTeasha's story helps others to feel comfortable with DNA paternity testing and to understand how powerful and beneficial answers can be for a family."
Carter's interview is one in a series of videos that are a collaboration between Identigene and Dr. Janet. Topics range from how-to videos to tips on how to approach any major life change. The videos are housed in the company's online Resource Center.
About Identigene
Identigene is a global leader in DNA paternity testing, providing both personal and legal paternity tests, as well as other relationship testing, such as for grandparents and siblings. Identigene is America's #1 brand for DNA paternity testing, recognized by doctors, lawyers and the American consumer. Identigene, the first and only company to bring DNA paternity testing to the general consumer through major drugstores and supercenters, is nationally and internationally accredited for both DNA paternity and molecular diagnostic testing services. Identigene is a privately-held, wholly-owned subsidiary of Sorenson Genomics, which is a highly accredited genetic laboratory renowned for its expertise in human identity, forensics DNA testing and population genetics.
Visit http://www.DNAtesting.com for helpful tips and information including how-to videos, customer reviews and more. Connect with Identigene on Facebook at http://www.facebook.com/identigene or follow the company on Twitter at @Identigene.