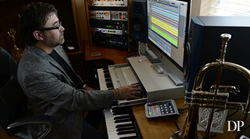 "One of the greatest composers of our time"
(PRWEB) March 20, 2014
You've heard his music on TV, in Movie Theaters, on Classical Concert Stages, and now with a Major League Baseball Team! Charles Denler, an Emmy Award winning composer, has been commissioned by the Colorado Rockies to write a theme for the team. Not just any theme, but one that is accompanied by a massive 80 piece orchestra.
Charles is well known for his film and television scores, having scored for over 200 shows and movies. He has also shaken up the classical world with his recent symphony, "PORTRAITS OF COLORADO", by being the first composer in history to write a symphony in 10 movements.
His latest commission by the Colorado Rockies combines the elements of film score and classical music to create one of the most memorable themes in Baseball. This is the first time a baseball team has collaborated with a classical orchestra, and the result is glorious! Check out the music of Charles Denler for yourself - http://www.charlesdenler.com/.