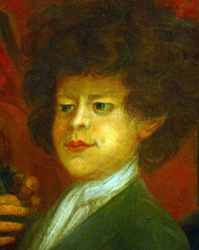 "To reveal who he really was would even at this date set the country in a blaze." James Barrie
San Diego, CA (PRWEB) March 20, 2014
Peter Pan has captured the imaginations of millions of children for generations. Now, a new book telling the life behind the legend of Peter Pan is drawing the interest of readers from all over the world.
Peter: The Untold True Story is the heartwarming story of a real-life Boy Who Never Grew Up. Author Christopher Mechling believes the historic life of Peter the Wild Boy is the authentic origin of the fictional character of Peter Pan, and after reading his book, you will believe too. In the engaging adventures of Peter, you will also find likely inspirations for the other famous characters in James Barrie's classic work, such as Wendy, Hook, the Lost Boys, the Indians... even Tinkerbell and the fairies.
Next year, Warner Brothers will release a big-budget, gritty prequel to Peter Pan, directed by Joel Wright and starring Hugh Jackman, Garret Hedlund, Rooney Mara and Levi Miller. Sony, Disney, NBC and other studios are also reported to have projects in development, reimagining the legend of Peter Pan in one way or another. The approach of Christopher Mechling's book is unique, however, because it is not an extension, prequel or retelling of James Barrie's work. Instead, Peter: The Untold True Story offers fresh, historical insight into Barrie's inspirations.
At the core of the tale is Peter the Wild Boy, an 18th century feral child who lived alone in the wild to the age of twelve. Brought to London and introduced to court society by King George I, Peter won the hearts of the Royal Family and lived in the palaces as their guest for several years. An instant celebrity, the Wild Boy captivated the imaginations of the English public, and was written about by contemporary authors such as Jonathan Swift and Daniel Defoe.
Peter lived more than seventy years, and continued to be a popular figure even after his death. In his old age, Peter remained youthful in his energy and appearance and was still known as the Wild Boy. Evolutionary theorist Lord Monboddo, who visited Peter in 1782, said, "He is of low stature, not exceeding five feet three inches; and though he must be now about 70 years of age, [he] has a fresh, healthy look. His face is not at all ugly or disagreeable, and he has a look that may be called sensible and sagacious, for a savage. [He] had always that gentleness of nature, which I hold to be characteristical of our nature, at least until we become carnivorous, and then hunters or warriors. He is said to have sometimes run seventy or eighty miles a day. His strength always appeared to be so much superior that the strongest young men were afraid to contend with him."
Peter is an enchanting tale full of humor, love, and courage in the face of life's difficulties. It will make you laugh, cry, dream and remember what it means to be young. Books are available for sale in hardcover for $29.99 through Barnes and Noble, Amazon, and at the author's website. It is also available for $9.99 as an e-book through the Apple, Nook, or Kindle.