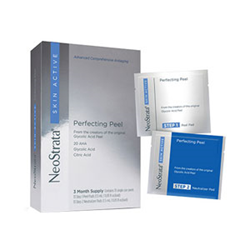 Neostrata Perfecting Peelis suitable as an anti aging treatment to reduce enlarged pores, even out skin tone, and reduce lines and wrinkles. It adds a glow to skin and smoothes its texture.
Irvine, CA (PRWEB) May 08, 2014
DrSkinSpa.com is a web-based top-tierskin care company. It places its primary focus on providing scientifically tested youth-enhancing skin care creations that are manufactured using naturally derived and/or organic ingredients. The company proudly markets an extensive line of natural and effective anti aging skin care products. In-home treatment peels are just one of the many types of solutions sold here and DrSkinSpa.com has just added Neostrata Perfecting Peel to its line.
Neostrata Perfecting Peel is a two-step peel containing strong active ingredients to deliver spa-like results in the home for anti-aging benefits. Neostrata places a 20% blend of alpha hydroxyl acids, glycolic acid and citric acid in this skin peel for maximum advanced results. Skin is visually smoother and more evenly pigmented.
The use of alpha hydroxyl acids (glycolic acid, citric acid) ,enable Neostrata Perfecting Peel to exfoliate skin and reveal newer, younger, brighter skin without inflammation. This compound can increase the skin's production of collagen and thicken or plump skin for a more youthful appearance. Neostrata Perfecting Peel uses active AHAs to remove years from the skin's appearance. This active ingredient smoothes fine lines and wrinkles, eradicates surface scarring and is gentle on skin.
Neostrata Perfecting Peel is a two-step skin renewal process. Step one consists of a pad containing the active AHAs, glycolic acid and citric acid, to encourage cell renewal by exfoliation. This minimizes the signs of aging, fades dark spots and roughened skin patches. A more even skin tone is also accomplished. Step two neutralizes the ingredients just used in order to reduce any accompanying redness, dryness or itchiness that may occur with the use of alpha hydroxyl acids.
Dr. Farid Mostamand, owner of DrSkinSpa.com, says, "Neostrata Perfecting Peelis suitable as an anti aging treatment to reduce enlarged pores, even out skin tone, and reduce lines and wrinkles. It adds a glow to skin and smoothes its texture."