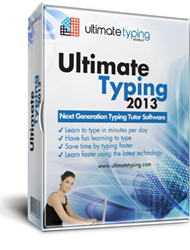 Touch typing engages different cognitive processes in a person's brain compared to handwriting.
New York City, NY (PRWEB) March 30, 2014
Ultimate Typing™ developer and champion of touch typing skills, eReflect, acknowledges the significance of good handwriting, even in a world where keyboards and texting are used more than pencils and paper. Cursive writing and handwriting in general won't be entirely replaced by keyboarding any time soon, but the move towards virtual communication means that there is a risk of those skills being lost. Children need to develop handwriting skills at a young age and even if they won't be using this skill as often and as consistently as typing, it's still a cognitive skill that every person should master for many reasons, according to eReflect.
Touch typing engages different cognitive processes in a person's brain compared to handwriting. Touch typing relies mostly on motor skills and memory and it's based on cognitive automaticity. The brains go on autopilot, as it does when a person drives a car or rides a bike, notes the eReflect representative. Cognitive automaticity enables multi-tasking. When a person is touch typing they are not consciously looking for the right keys, because their fingers automatically move to them; this allows the typist to focus that mental energy on the ideas and thinking processes being communicated in the typed document. Learning typing is a process of cognitively solidifying an automated process into the subconscious.
Handwriting, on the other hand, is a more physically grounding experience, where the writer is constantly shifting between a focus on the pen or pencil and the letters being formed, and the ideas conveyed by the words built by those letters. The advantage of handwriting is that the writer has better control over the writing process, and fewer mistakes are made in general in spelling. As a result, thinking and creative processes are more likely to occur uninterrupted. On the other hand, when a person is typing they don't get immediate feedback from their fingers when a mistake is made, only a visual cue from having the word underlined on the screen. This requires them to stop and reboot the unconscious muscle-memory typing process, slowing them down mentally as well.
Ultimately, the debate is not whether one method of written communication is more important than the other, but how the two can make children more capable adults. Although handwriting is almost eliminated from day to day life for many people — even grocery lists are created on smartphones and notes are sent to email addresses rather than stuck on a fridge — handwriting familiarization and mastery shouldn't be overlooked no matter how packed a school curriculum might be. Typing faster saves students time, but handwriting offers a more intense, cognitive and physical experience.
Teachers and principals are encouraged to offer students both these skills and ensure handwriting is practiced often so that the skill is solidified, and eReflect hopes that the welcome trend to better typing does not cause people to neglect essential handwriting techniques.
*********
For more details on Ultimate Typing™ please visit http://www.ultimatetyping.com/.
About Ultimate Typing™
Ultimate Typing™ software is designed specifically for the improvement of typing skills. Created by eReflect, a world leader in e-learning and self-development software, Ultimate Typing™ has been informed by the latest developments in the science of touch typing.
Since its creation in 2006 by Marc Slater, the company has already catered to over 112 countries all over the world, offering products with the latest cutting-edge technology, some of which are among the world's most recognized and awarded in the industry.