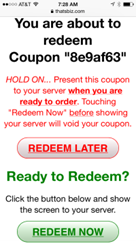 Restaurant customers love that they can redeem coupons right on their smartphone
Bloomfield Hills, MI (PRWEB) March 24, 2014
That's Biz announces the first coupon system allowing restaurants to redeem coupons emailed to customers without the need for additional hardware or software. The coupons are redeemed on the customer's smartphone simply by the customer touching the screen and showing the phone to the restaurant wait-staff or counter staff.
"Restaurants using email marketing and social media marketing struggle with sending great offers to customers because they cannot prevent the coupon from being used multiple times by the same customers," said Dave Gonynor CEO of That's Biz.
"Up to now the only solutions involved expensive point of sale integrations or additional hardware. With our new smartphone coupon redemption app, coupons can now be redeemed right on the customer's smartphone in a two-second process."
Recent statistics show over 50% of restaurant customers read email on their smartphone. Now they can save the email message and retrieve the coupon on their smartphone when they stop into the restaurant. That's Biz includes a convenient "Text 2 Me" button allowing customers to text the coupon to their phone for easy retrieval.
"Restaurant customers love that they can redeem coupons right on their smartphone," Gonynor continues. "The traditional method of requiring customers to print coupons is a real pain and in some cases their customers don't have access to a printer at home. It drives customers crazy to get to the restaurant and find they left the coupon at home. Now they just pull up the coupon from the email or text message."
Restaurants can see how easy it is to manage their coupons and how the smartphone redemption process works by visiting the That's Biz website.
That's Biz has been providing email marketing, social marketing and text marketing solutions exclusively to restaurants since 2007. Hundreds of restaurants across North America use their smartphone coupon app.