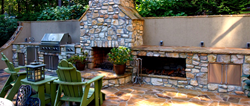 Outdoor kitchens and outdoor fireplaces increase home value. Just ask any expert. Beyond that, they are a beautiful focal point for outdoor living areas and they add dimensions of pleasure to daily living.
Charlotte, NC (PRWEB) April 14, 2014
Real estate experts believe outdoor kitchens increase home value. "In any market a home with an outdoor kitchen would help buyers choose it over another without one," says Karen Schwartz of ERA Real Estate. (~This Old House Magazine, 10 Smart Ideas for Outdoor Kitchens and Dining by TOH Editors)
Masters Stone Group, the premier provider of stone masonry and design in Charlotte, NC, agrees with the experts findings. The company announced today that it finds strong growth in outdoor fireplaces and outdoor kitchens. They are being used both as a means of increasing home value and extending the seasons to enjoy the outdoors. "With a fireplace and a fire pit, families can now stay warm outside, bask in the glow of the fire, even when it's cooler outside. It used to be that all entertaining was done indoors when the weather was cooler. Not anymore," says Mark Correll, President of Masters Stone Group.
"More and more consumers are building outdoor—or cabana— kitchens so they can slow down and spend more time with their family and friends. With a mix of cabinets, grills, warming drawers, sinks and refrigerators, all the elements of outdoor dining can be close at hand." (~Backyard Kitchen Primer by Paige Bowers, Realtor.com)
The fact that outdoor kitchens increase home value is a key driver of the widespread popularity in the outdoor living market. Factor in that outdoor fireplaces and kitchens are more affordable than ever, and most people conclude it is a wise investment. Still, most families choose outdoor living enhancements, such as fire pits and fireplaces, "to increase enjoyment of their home and to better their lifestyle," said Correll. Fireplaces make a beautiful focal point for outdoor rooms and lend a sense of drama and comfort to any gathering, but let's not forget the practical purpose they serve: heating and cooking.
Correll said, "Additionally, outdoor living is not just for million dollar homes anymore. Homes of all price ranges are making their outdoor space a priority and maximizing its use and value." While patios are still the most common outdoor feature, they are followed closely by fire pits, outdoor kitchens and outdoor fireplaces. "We always tell our clients that anything they can envision, we can create. Even in small spaces, we offer design and planning to make use of every square inch possible. Clever design can make all the difference in turning a drab, small back yard into an exciting, fully functional outdoor kitchen."
Areas in which Masters Stone Group specializes include: Ballantyne, South Charlotte, Myers Park, Lake Wylie, South Park, Matthews, Lake Norman and Waxhaw. "We aspire to remain the leading company for outdoor living in Charlotte," says Mark Correll. "We are specialists in stone pavers, flagstone patios, concrete pavers, stone patios and exterior home accents– you name it, if it has to do with stone, we can get it done. Our name has become a symbol of quality, craftsmanship, and passion for stone and masonry in Charlotte. We intend to keep it that way."
About Masters Stone Group
With over 20 years' experience in the custom home building and stone masonry field, Masters Stone Group specializes in the art of selecting, designing and installing natural and manufactured stone in Charlotte, NC, and surrounding areas. Masters Stone Group is fully licensed, bonded and insured for all work completed. For more information about all types of stone masonry and the leading stonemasons in Charlotte, please call 704-968-7177. Visit the website at http://www.mastersstonegroup.com.