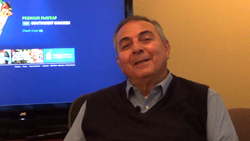 Felix Septic is one of the most reliable service companies I've ever had," said Haddad. "I cannot say enough about them.
Bedford, NH (PRWEB) April 02, 2014
About 20 years ago, McDonald's business owner Emile Haddad needed his residential septic tank pumped, so he reached out to Felix Septic Service. What began as a routine service call has now evolved into much bigger things for New Hampshire's longtime septic service leader.
Felix owner Mark Thompson, who acquired the company over 25 years ago, leads a company where dedication and quality is a staple of their local service. Did he ever think his business would flourish as well as it has in the commercial sector? It's no surprise according to Haddad.
"I can say they are a local company and it starts from the top. Their communication flows from the top down," Haddad said. "They know how to get the job done through the permitting process in the least amount of time and for the least amount of expense. I recommend them highly for building and maintaining leach fields and septic systems for any business in the state."
Felix routinely services major franchises throughout New Hampshire including Dunkin' Donuts, Walmart, and Circle K. Haddad believes regular service and emergency repairs are imperative to keeping his 10 McDonald's locations operating efficiently while protecting the environment in the process.
"When we have an emergency at my restaurants, anytime I need them, 24/7, holidays or no holidays, I call Mark and the response time is fantastic, " said Haddad. "Felix Septic is one of the most reliable service companies I've ever had. I cannot say enough about them.
"Their service is also important for the environment, number one, and for the maintenance of the restaurant. Both things go hand in hand. Felix Septic really does very well in maintaining them and keeping me informed in the health of our septic systems."
Felix Septic routinely maintains and inspects septic tanks, grease tanks, and maintains and repairs wastewater pipeline systems for Haddad's McDonald's locations. It's safe to say he has no intention of switching providers.
"I cannot compare them with any other company because they are the only company I would use for this service, and I introduce them constantly to other customers; they're all very pleased with their service as well."
About Felix Septic:
For over 40 years, Felix Septic Service, Inc. has provided residential and commercial wastewater management locations with dedicated service across the northeast region. Mark Thompson acquired the company 25 years ago and continues to operate as a family business with two of his sons and a nephew as an intricate part of the staff. Mark maintains the original company name of Felix Septic as a gesture of respect and gratitude to its original owners.
Felix Septic Service provides commercial duties for major franchises including McDonald's, Walmart, KFC, Dunkin' Donuts, Circle K, and Wendy's. Additionally, they service residential septic systems throughout southern New Hampshire. They are available at (800) 595-7907 or (603) 623-7907.