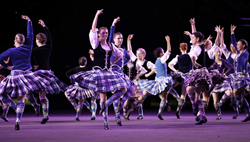 A great way to delve into the culture of an area is to plan your travel around an important festival.
Boston, MA (PRWEB) April 14, 2014
The 65th annual Royal Edinburgh Military Tattoo, one of the oldest and most spectacular in Europe, will take place this August as a part of the city-wide Edinburgh Festivals. These comprise 12 separate festivals, one of the most famous of which is the Tattoo. Mindful of this event, Jean Moss of Olde Ipswich Tours has strategically planned a small group tour of Ireland and Scotland to coincide with the tail end of the Edinburgh Military Tattoo.
The Tattoo, which has run every year since 1950, is scheduled to take place on August 1 – 23, 2014. Each year, it features military music and entertainment from around the world with over 46 countries represented. It is quite a spectacle: musicians and dancers—including cultural troupes, massed pipes and drums, and the bands of Her Majesty's Royal Marines—will perform against the stunning backdrop of Edinburgh Castle. It is estimated that more than 13 million people have visited it since its inception.
Although a worthy enterprise in and of itself, the Royal Edinburgh Military Tattoo was set up for charitable purposes. In fact, it has distributed approximately £8 million to various service organizations. It is also a boon for the local economy. According to one independent study, over the years "visitors to the Tattoo contributed an estimated £88 million to the Scottish economy."
Jean Moss, owner of Olde Ipswich Tours, wanted to share this exciting cultural experience with others. "Nowadays, lots of people like to incorporate a unique experience in their travel plans," says Moss. "I thought a great way to delve into the culture of Scotland would be to start out the tour on the heels of this wonderful festival in Edinburgh, Scotland."
This idea prompted Moss to schedule her small group tour of Ireland and Scotland to begin on August 24th, just as the festivities with the Tattoo are coming to a close. "This way, for those who are interested in seeing more of the Scottish countryside," continues Moss, "you can come for the show and stay for the great food, friendly locals, and beautiful scenery!"
To find out more about Olde Ipswich Tours' small group tours of Ireland and Scotland, beginning at the close of the Royal Edinburgh Military Tattoo, please visit http://www.ipswichtours.com/small-group-tour/small-group-tours-of-ireland-scotland.
Olde Ipswich Tours is a small group tours operator based in Ipswich, Massachusetts, specializing in culturally rich gourmet tours to Europe. For a complete list of upcoming small group tours, or to learn more about Olde Ipswich Tours, visit our website today.