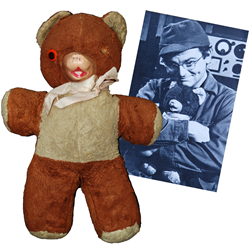 In the last MASH episode filmed,Hawkeye Pierce (Alan Alda) said, "Let [the bear] symbolize all the boys who came over here that left as men
Miami, FL. (PRWEB) March 24, 2014
Throughout the prolific Army-satirical series M*A*S*H, the character Radar O' Reilly was known for sleeping with his teddy bear. It kept him warm at night, and was the source of many jokes that left audiences around the world feeling warm and fuzzy.
Now, that loveable bear is available once again, as part of an online auction, on March 27, 2014.
At lot 197, the little plush item is ready to comfort another owner – in addition to inspire memories of one of the most syndicated shows in television history.
Radar's teddy bear was originally found on the Fox Ranch, where the series was filmed, and became part of the show.
Radar's teddy bear was originally found on the set by one of the actors, and was added to the "cast" to further illustrate Radar's youth and innocence.
Gary Burghoff played the gullible Company Clerk from the Midwest who needed the comfort of his teddy bear at night. Burghoff, who played Radar for seven seasons, was the only regular actor to leave the series without being replaced, as Klinger usurped Radar's duties as Company Clerk.
In the second-to-last MASH episode (actually the last episode filmed), "As Time Goes By", Hawkeye Pierce (Alan Alda) added the teddy bear to a time capsule with other items from the camp, including Klinger's Gone with the Wind dress and a broken fan belt from a helicopter. Hawkeye said, "Let [the bear] symbolize all the boys who came over here that left as men."
The teddy bear, which never officially had a name on MASH, but was secretly named "Tiger" according to Mr. Burghoff, does live on through the children's show Sesame Street. Big Bird's teddy bear is named Radar -- in homage to Radar O'Reilly's teddy bear.
For more information, contact David Gindy ,One Of A Kind Collectibles LLC. at (305) 661-4244 and David(at)oakauctions(dot)com.