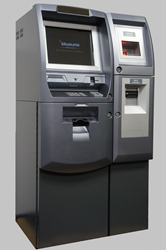 Think Global, Act Local!
(PRWEB) March 22, 2014
Genesis Coin is proud to announce the unveiling of the first two Genesis1 Bitcoin ATMs in Tijuana, Baja California, Mexico. The machines, owned and operated by Bitcoin42, are located at Tijuana's Bit Center. The Center, which focuses on local development of business, innovation and technology, provides working space for some of Mexico's leading startups.
The Genesis1 ATM's differ from other Bitcoin ATM models in that the machine supports Litecoin and Dogecoin as well. Bitcoin42 acquired and deployed two machines, one accommodating Mexican pesos and the other US dollars.
Tijuana is a happening place for Bitcoin ATMs to spring up, with a burgeoning alternative culture scene, multi-national appeal and tourism.
"The Genesis1 is an ATM machine ready for the 21st century, fully capable of supporting the bilateral exchange of multiple cryptographic currencies," said Genesis Coin CEO Evan Rose, who notes that multiple Genesis1 machines will be coming online in the coming weeks around the world.
This isn't only a win for Tijuana. San Diego, which sits 15 miles north of the Mexican border and Tijuana, will benefit from the close proximity of the machines as well. Historically, Tijuana and San Diego have been seen as sister cities, and were even considered for the first multi-country Olympics in 1989, which would have been co-hosted by the two neighboring border cities.
"We're confident that Bitcoin ATMs will become an increasingly common technology. The future is here, and it seems like North America is out ahead in that regard," stated Rose. "As a California based company, we are excited to partner with our neighbors to the South in Baja, on this and future projects."
The Genesis1 technology will allow Bitcoin42 to give 10% of all profits generated by the ATMs to non-profit associations across Tijuana. Customers will even be able to choose the cause they wish to donate to — "Think Global, Act Local!"
Bitcoin42 advocates for the use of crypto-currencies by non-profit organizations to lower their administration costs. By utilizing power of the Bitcoin payment network, non-profit organizations can receive funds in a faster and more efficient way while providing the highest level of transparency.
The Bit Center is open to the public Monday through Saturday.
About Genesis Coin Inc.
Genesis Coin Inc. is a software development company focused on solutions for the crypto-currency market. The company's flagship ATM, the Genesis1, provides instantaneous conversion services between traditional currencies and crypto-currencies through a user-friendly interface. To learn more, visit https://BitcoinATM.com
About Bitcoin42
Bitcoin42 is comprised of a dedicated team of experts and Bitcoin enthusiasts unified under a common goal of establishing a fair, fast and inexpensive means of payment. The company's business model focuses on cultural, social, ecological, and economical projects that aim to tackle challenges in our society by developing creative solutions.