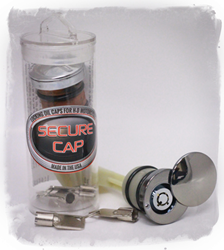 about $3000 or about $70 bucks you decide
Orange, California (PRWEB) March 31, 2014
The retailers of a popular anti-vandal locking cap for Harley Davidson motorcycles aim to add even more value to their brand with community outreach and unbeatable products.
SecureCaps.com today announced its plans to greet the second quarter of 2014 with a collection of new initiatives and event appearances, adding an extra layer of value to the company's celebrated product line.
The most prominent of the strategies is a charitable initiative that will allot five percent of SecureCaps.com's sales to the Wayside Christian Fellowship for the entirety of 2014. This California-based church engages in youth-oriented outreach activities, and the donations will go toward musical instruments, youth nights, anti-drug programs and keeping kids in school. Every SecureCaps.com customer and dealer can feel proud that their money is helping children stay on the right path through the elementary years and beyond.
"Wayside is doing great things for kids in the local community," a company spokesperson noted. "We like to stay engaged with our neighbors, so it was a natural fit for SecureCaps.com to help support this type of important, youth-oriented outreach."
Also in the company's plans for 2014 is an appearance at the 32nd Annual Laughlin River Run. Held in Laughlin, Nevada, this motorcycle event is the largest in the western United States, and its weekend ride includes a run along historic Route 66 and a jaunt through the Arizona hills. What's more, because it attracts more than 50,000 bikers and enthusiasts each year, the Laughlin River Run is an ideal place for annual meet ups. Not only can bikers enjoy the ability to share their passion and make new friends, but companies will also have the chance to support the community and meet their customers face to face.
"We're always looking for ways to give back to the people who have supported us from the very beginning," the same spokesperson said. "Everyone at SecureCaps.com feels that both the Laughlin River Run and our partnership with Wayside will benefit our customers in a truly tangible way."
Of course, the company has been providing a huge benefit to the community all along. Its product line alone has revolutionized the way motorcyclists approach their bikes, and the oil caps have become a must for anyone who wants deter vandals, keep their oil clean and potentially lower their insurance premiums.
After all, both vandalism and oil contamination are problems that have plagued Harley Davidson riders for years, and SecureCaps.com's locking oil caps offer a solution at an affordable price. Customers can now park on the street or at a busy festival without worrying about thieves or vandals, and the system doesn't allow damaging contaminants to be introduced to the oil.
Here's how it works: Each locking system includes a dipstick, swiveling cover and fluorocarbon O-rings. Because fluorocarbons fight against oil additives, vandals won't be able to introduce sand, sugars, syrups or gravels into the system. The locking caps also prevent intruders from stealing the cover and draining the pan, and the rings never turn gummy or lose sealing power.
The company's owners, believes that the locking caps are invaluable to motorcyclists. "Nearly 250,000 Harley Davidson bikes hit the road each year, and the rate of vandalism is well known," he explained. "You put a locking gas cap on your bike to protect your bike not your fuel so why would you not put on a Securecap locking oil tank cap to protect your Engine? Our products keep contaminants as well as possible Vandal threats from damage to your bike. Were not posers, we ride and we're really in the business of offering peace of mind to Harley owners."
Plus, he added, customers might see a decrease in insurance premiums and out-of-pocket costs when they use the system. Most motorcyclists invest in both collision and comprehensive coverage due to the bikes' high value, and those plans can carry huge premiums and deductibles. By using SecureCaps.com's locking system, riders are able to avoid costly claims that run the risk of raising the already expensive premiums. The system is designed for all Harley Davidson Softail bikes produced after 2000 — including the Heritage, Fat Boy and Deuce models — and the caps are available in black, pink and chrome.
"We're proud of our product, and we're proud of what we have coming up for 2014," the company spokesperson said. "We can't wait to continue to help our current customers and hopefully meet a few new ones."
About SecureCaps.com
Based in California, SecureCaps.com is dedicated to providing high-quality locking oil caps for both Harley Davidson motorcycles and the company's FLH touring models. The brand not only uses SecureOilCaps.com to sell products directly to customers, but it also offers wholesale distribution opportunities to dealers who qualify.
Secure Cap
1411 N. Batavia St. sutie 117
Orange, Calif 92867