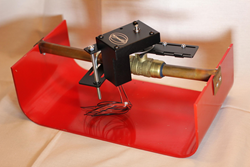 The ValveSentry™ Device will shut off a leak before it becomes a flood. It is cheap insurance. Don't wait for a flood to wish there was one installed in the home.
Mansfield, MA (PRWEB) March 24, 2014
Flooded homes caused by leaking water heaters, washing machines, sink and toilet hoses and valves, frozen leaking pipes and other plumbing can be a disaster, destroying your property and precious memories.
Leaking plumbing does not give any warning and can fail without notice. Small leaks can create a flooded home if undetected, even for a couple of hours when at work or away for the night or an extended vacation.
Introducing the ValveSentry™ - the first and only automatic water shut off device that attaches to the water main valve - no plumbing or permits required!
The ValveSentry™ device bolts to any ball or gate valve and shuts off the water main when a leak is detected.
Installation of the ValveSentry™ device is simple and doesn't require any plumbing - installs easily in minutes with ordinary hand tools. And it fits on any type or size of water main shut off valve.
If the water main valve can be manually closed by hand, the ValveSentry™ device can be easily installed on it for automatic shut off.
The ValveSentry™ device's water sensor can be placed anywhere in the home to detect a water leak and promptly turn off the water main.
Place additional ValveSentry™ water sensors near water heaters, washing machines, sinks, toilets, and plumbing. If a leak occurs, the sensor sends a signal to the controller, which shuts off the water at its source. Installation is simple. . . Operation is automatic.
Leaks do not give any warning signs. Hot water heaters, washing machine hoses, toilet and sink valves and hoses - can fail suddenly and leak continuously until the owner comes home and discover a flooded house and $1000's of damage.
Don't let a leak cause a flooded home! Continuously monitor the plumbing and shut off the water at the earliest sign of a leak. For peace of mind when away at work or on vacation. Protect your valuable property and treasured memories.
ValveSentry™ Automatic Water Shut Off Valve Features:
-Easy To Install in 15-30 minutes.
-Fits most any size or style of water main valve.
-No plumbing, permits or inspections are required.
-Every home needs one.
-Take it when you move.
-Add multiple water sensors! The kit includes 1 water sensor, add more as desired.
-Powerful electrical motor with battery back-up in case of power failure.
-Ideal for any home, vacation home, rental property, vacant property, condominium associations, home owner associations, etc.