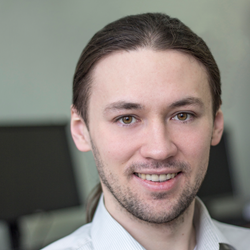 MobiDev, a mobile software development company, has recently contributed as a speaker and exhibitor to CeBIT 2014, which took place in Hannover, Germany, from 10 to 14 March, 2014.
(PRWEB) April 04, 2014
CeBIT is the world-scale IT/computer expo of the highest level. It gathered a lot of remarkable participants, both companies and notable individuals. The exhibiting companies included IBM, Samsung, Huawei, Nokia, Fujitsu, and SAP. Guest speakers included Jimmy Wales (founder, Wikipedia), Eugene Kaspersky (CEO, Kaspersky Lab), Steve Wozniak (co-founder, Apple), Clint Oram (CTO, SugarCRM), Cristina Riesen (General Manager, Evernote), and Lars Fjeldsoe-Nielsen (Head of Mobile, Dropbox).
World's biggest players related to software solutions for business, custom and open-source software, exhibited in Hall 6, which was dedicated to Mobile and Web. That was where MobiDev greeted numerous representatives of companies, interested in mobile development in general and multiplatform development in particular. Spheres of business and industry included e-commerce, startups, apps and development, mobile enterprise and Internet solutions.
MobiDev also contributed a report, which was held by CEO Oleg Lola and Head of Multiplatform Development Department Yuriy Luchaninov. This report closely concerned multiplatform mobile solutions as the way of building responsive and cost-efficient hybrid software: promotional apps, entertainment apps, and employee-oriented business apps for internal use.
The report named 'The Future Of Mobile Development' successfully covered the following issues:

risks of developing a product for just one mobile platform;
finding the optimal and cost-efficient means of making efficient solutions for m-commerce, and for presentation of products and services through mobile apps;
special attention was paid to the problems of implementing BYOD strategy and the related issue of diversity of device types, mobile platforms, and the possible resulting incompatibilities;
limitations of native SDKs, especially in creating unique, non-standard app interfaces;
situations where HTML development can be a more effective solution than native development;
developers' mistakes that usually lead to poor performance of hybrid apps; the ways of eliminating them;
RAD-js, a free-to-use development toolkit developed by MobiDev - a means that helps build hybrid apps with native-like responsiveness, and helps achieve high performance even on low-end devices. The toolkit is a result of cooperative work and experience applied by the MobiDev team.
The introduction of RAD-js at CeBIT raised much interest among software companies and freelancers. The toolkit has already been in use for some time and has received positive reviews from software developers and users of multiplatform apps.
The contribution presented by MobiDev was useful for business people and launched a chain of questions and answers. Despite the huge interest and success of the report, it's the starting ground - the company plans to attend and participate in further conferences and other events dedicated to mobile technologies, share knowledge and thoughts about various aspects of mobile development.