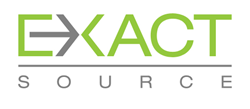 At the end of the day, this is all an effort to help our candidates in their career path and to ensure our clients have the best pool of candidates to choose from.
Atlanta, GA (PRWEB) March 25, 2014
ExactSource, a national leader in the delivery of talent management solutions and software to architectural and engineering firms, is proud to announce ExactReferral, a unique referral program targeting job candidates in the A/E/C industry. Candidates are offered a monetary incentive of $500 for referring someone to the ExactSource Candidate Program, if the referral is subsequently hired.
ExactSource encourages both active and passive job seekers to sign up for the Candidate Program to take advantage of multiple benefits. These benefits include an extensive skills profile that can be used to highlight professional experience, a comprehensive salary report that identifies A/E/C compensation trends, access to a network of professional engineers and architecture, as well as interaction with industry professionals who can help candidates both in their current and future job situation.
"We're hoping this referral program will encourage people to really consider people in their network who might benefit from our Candidate Program," says ExactSource Technology Director Hope Bozec, "At the end of the day, this is all an effort to help our candidates in their career path and to ensure our clients have the best pool of candidates to choose from."
To register for the Candidate Program and be eligible for ExactReferral, click here: https://www.exactsource.com/Candidates/CandidateLogin.
ExactReferral is just the latest resource offered by ExactSource, a company that is bringing state-of-the-art solutions to support talent sourcing needs at every level in the A/E/C industry. In addition to leadership and technical recruiting, ExactSource offers proprietary software solutions, market research, and consulting services.
About ExactSource
ExactSource is the leading recruiting, organizational consulting, market research and software solutions company providing services to firms in the Architectural and Engineering sector.
ExactSource is best known in the A/E/C industry for their highly acclaimed ExactProfile technology, a system released in 2012 that assesses and catalogues more than 115 critical engineering skill sets and experience levels that aren't typically identified on a resume. Using this breakthrough screening software, HR managers are able to instantly identify the technical candidates that meet their exact requirements. This methodology provides a smarter way to hire and it is the objective of ExactSource to have every A/E/C firm across the country using ExactProfiles as part of the hiring process.
ExactSource brings a combined 151 years of experience in technical and leadership recruitment and has established a prominent presence in the Engineering community. The company successfully serves firms in 39 states across the nation, including over 20 firms on the Top 500 A/E list.
For more information about ExactSource and their consulting, research and recruiting services, visit their website or contact David Schmidt at dschmidt(at)exactsource(dot)com.