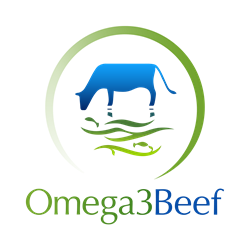 Our crowdfunding approach will help us show the beef industry that there's a strong consumer demand for healthier beef.
Aspen, CO (PRWEB) March 25, 2014
A former cattleman and energy executive is turning heads in the U.S. cattle industry with a bold venture that could rewrite the book on the nutritional value of that staple of the American diet: beef.
Over the past 20 years, consumption of beef in the US has declined by almost 25%, as consumers have switched to other protein sources due to health concerns. But Don Smith's company, Omega3Beef, is pioneering a new way of raising cattle that features a patented, all-natural feed supplement process, resulting in beef with the heart healthy-benefits of omega 3's.
Smith has been on a 25-year quest to improve the health benefits of beef. His big breakthrough came in 2007, when he heard animal science researchers from Cornell and Oklahoma State Universities explaining how feeding cattle certain types of grasses could increase omega 3 levels in their meat. If that's the case, Smith wondered, why not improve their diet using an even better source — the same omega 3-rich ocean algae that are key parts of the food chain for fish like salmon?
After more than six years of successful research and development, Smith and his team are preparing to win approval for commercial sales of the feed supplement from the FDA's Center for Veterinary Medicine (CVM). "We're expecting to be approved by early fall," Smith explains. "After that, we'll start selling cattle feeders the feed supplement they can mix in with the feed they currently use."
Just as Smith is turning heads with his all-natural feed supplement, he's also using a creative approach to raising capital. Smith and several investors have funded the company's R&D and operating expenses to date. For the next phase, however, the company is using crowdfunding to help it scale up operations and raise a test group of 200 cattle, so that CVM can review the supplement for commercial sales.
In exchange for consumers' financial support (through donations ranging from $50 to $200), Smith's company will prepare and mail packages of beef produced from the test herd. The company's supporters will be the first to sample Omega3Beef — featuring the traditional flavor they love, but heart-healthy omega 3's as well.
"We're taking this unusual funding approach for two reasons," Smith explains. "First, it will help offset the additional capital we need to gain CVM approval. More importantly, doing so will help us show the beef industry that there's a strong consumer demand for healthier beef."
About Omega3Beef
Based in Aspen, Colorado, Omega3Beef is a small company with big ideas. Founder Don Smith and his partners are pioneering a way to introduce the same sea-based algae, which are consumed by tiny fish which are in turn consumed by halibut and salmon, into cattle feed — resulting in beef that is rich in heart-healthy omega 3's EPA and DHA. The company is ready to lead the evolution of the beef industry, and is using crowdsourcing in order to apply for approval for commercial sales of its patented, all-natural feed supplement process.
# # #