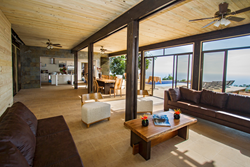 We wanted a Bali-style mansion with a Costa Rican interpretation, with warm elements like wood and rustic-like materials, inclusion of the nature and surroundings through the use of a plentitude of large windows and at the same time give it a modern trend.
Dominical, Puntarenas, Costa Rica (PRWEB) March 25, 2014
Kalon Surf, the luxury surf school and resort featured in Forbes magazine, is opening a brand new hotel just 10 minutes from Playa Dominical on March 29th. The new location is 20 minutes from Manuel Antonio and two hours from the capital, placing it within convenient reach of some of the most beautiful beaches on the coastline, including Playa Hermosa, Playa Dominical, and Playa Linda. Constructed 1200 feet above sea level, it offers breathtaking views of the sunsets over the Pacific coast and the chance for surfers of all levels to enjoy some of the best surf conditions in Costa Rica.
Kalon Surf is a boutique luxury surf hotel with an exotic atmosphere. The new resort includes deluxe common rooms and cozy guest rooms, and is surrounded by 6.5 acres of land which includes untouched primal rainforest and jungle trails. On the trails, guests will be able to see white-faced monkeys, howler monkeys, toucans, and other indigenous wildlife. Kalon Surf's focus on ambiance is exceeded only by the company's emphasis on quality service. To that end, Kalon Surf only takes on 10 guests per week. This ensures that hotel owners, 'Dutchman' Kjeld Schigt, and 'Costaricense' Silene Vega Delgado can provide all of their guests with personalised instruction and service.
Kalon Surf: A Novel Vision Brought to Life
Kalon Surf offers a truly unique experience, in that it is more than the sum of its parts. The combined services and the tranquil, secluded setting allow guests of all levels to focus on developing their skills in a supportive and atmospheric setting, and to really "dive in" to the water. Kalon Surf caters to international guests from around the world who have a passion for surfing—whether they are beginners, intermediate learners, or advanced surfers. This is a place to relax, to get in the zone, to make new friends, and to get into the spirit of surf adventure without distractions.
It was that same spirit of adventure that led Kjeld Schigt and Silene Vega Delgado to abandon successful international corporate careers in 2011 to start their own business. Kalon Surf's success grew by leaps and bounds after their first hotel was featured prominently in a number of international magazines, including Forbes, Vogue, CNN, Executive Travel, and The Huffington Post. The husband and wife duo were inspired by that success to design this new property based on the feedback they received from their guests. As a truly cooperative venture, this new resort takes the Kalon experience to the next level, allowing the company to expand without losing their focus on each individual guest.
Costa Rican architects Carolina Adolfo Mejia and Vargas worked hard to create an atmospheric hotel which would combine inviting architectural elements in exceptional and organic ways to create a one-of-a-kind building. "We wanted a Bali-style mansion with a Costa Rican interpretation, with warm elements like wood and rustic-like materials, inclusion of the nature and surroundings through the use of a plentitude of large windows and at the same time give it a modern 'trendy' touch by using modern design trends" explains Silene. The total investment is estimated at $1.4 million.
Silene continues: "The Kalon Surf experience starts from the first contact we have with the client (email, phone or chat); we usually reply or get back to an enquiry within two hours, and right away we try to give as much (personalised) information as we can and answer any questions they may have."
Silene and Kjeld ensure that guests are taken care of from the moment they arrive at the airport until the moment they depart. "Upon confirmation of reservation, our guests get access to their private mobile concierge and can see already their itinerary (surf times, video analysis, massage) for their week, but they also can give us their food preferences, arrival and departure times, and request additional spa treatments - this way we can prepare optimally for their stay, and for the guests it makes planning of their vacation a breeze."
Transportation is arranged for guests from the airport to the resort in comfortable SUVs. Once they arrive, they are introduced to the staff and amenities. What comes with this all-inclusive package? Imagine spending seven nights in the beautiful Bali-style mansion, and enjoying five customised surf sessions lasting three to four hours each. All instruction is based on the surfer's level of experience, and all surf instructors who work with Kalon are locals who are familiar with the waves along Dominical's beaches. Every Kalon surf instructor is trained as an American Red Cross lifeguard.
Just as Kalon Surf emphasises small guest lists, the company also strives to keep class sizes small. Classes consist of three clients at most per single instructor. Along with the actual surf training on the water, there are daily video analysis sessions which allow guests to gain new perspective on their progress.
After all that hard work, guests are ready to unwind. Every guest is offered a complimentary massage to relax sore muscles. Throughout the week, guests can join in Pilates classes. These classes help students to relax, recover, and get the most out of the week. The infinity pool offers a tranquil environment to swim, and the private jungle trail offers yet another relaxing activity for guests who want to explore the beautiful flora and fauna of Costa Rica.
And what about cuisine? Kalon employs a private chef who serves up delicious gourmet meals throughout the week to guests based on their personal preferences. All dishes are made with fresh organic ingredients, many of which are grown in Kalon's own fruit and vegetable garden.
At the end of the week, guests are dropped off back at the airport and emailed the best shots and videos from their surf sessions. But it isn't just these snapshots which guests take back with them to their everyday lives, but the memories of cherished days spent on the sparkling waves of Costa Rica and evenings and nights spent relaxing in a boutique resort unlike any other.
Kalon Surf opened its doors in Dominical in 2011 with the goal of offering international guests from around the world a truly matchless experience in luxury accommodations and personalised surf training. Before opening up Kalon Surf, husband and wife Kjeld Schigt and Silene Vega Delgado worked in corporate careers for BP, HSBC, and other large corporations. Now they transform their vision and passion into a luxurious, sustainable reality every day with Kalon Surf.
Contact:
Kjeld Schigt
kjeld(at)kalonsurf(dot)com
Dominical, Costa Rica
1-646-257-2107