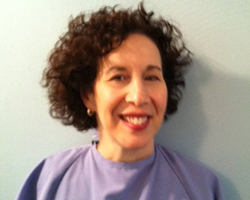 TeaNeck, NJ (PRWEB) March 24, 2014
This March, Dr. Susan Goldfarb is observing National Nutrition Month by teaching her patients about healthy eating habits that can help prevent gum disease. Many patients do not appreciate how much the foods they eat can negatively affect their teeth and immune system, increasing the risk of periodontal disease. Patients who make healthy changes but still notice symptoms of gum disease can visit Dr. Goldfarb for gum disease treatment to mitigate the risk of complications like tooth loss.
Dr. Goldfarb advises patients to focus on reducing consumption of foods that can harm oral health while adding foods that can improve immune system function. Foods and beverages to limit include carbohydrates, overly processed foods, fish with high mercury levels, sugary or carbonated drinks, and alcohol. Many of these foods contain harmful additives, worsen the effects of bacteria in the mouth, or speed up the process of tooth decay. Worthwhile dietary additions, meanwhile, include "grass-fed" meats, organic vegetables, whole-grain foods, unprocessed foods, and healthy fats. Patients who make these dietary changes may enjoy better overall health between the direct benefits of the diet and the prevention of gum disease.
Many patients fail to appreciate how much oral health problems can affect general health. When a person has periodontal disease, harmful bacteria can enter the bloodstream through the gums, causing chronic inflammation and increasing the risk of other health issues. Patients who notice symptoms of gum disease should seek gum disease treatment promptly for the sake of their oral and general health.
Common gum disease symptoms include swelling, bleeding, and soreness of the gums. Changes in tooth alignment and persistent bad breath can also be symptoms of gum disease. Dr. Goldfarb encourages patients to practice good oral hygiene and responsible dietary habits so that they never experience these symptoms. However, patients who do notice signs of gum disease should schedule an appointment for gum disease treatment with Dr. Goldfarb as early as they are able to. Patients can visit Dr. Goldfarb's website for more information on gum disease or call her office to make an appointment.
About the Doctor
Dr. Susan Goldfarb is a periodontist offering personalized dental care for patients in Teaneck, NJ since 1984, and was one of the first female periodontists in Bergen County. Dr. Goldfarb received her Doctorate of Dental Medicine degree from the University of Pennsylvania, School of Dental Medicine, and completed a General Practice Residency at Newark Beth Israel Hospital. She went on to receive her Certificate of Periodontics from the Fairleigh S. Dickinson School of Dental Medicine. Dr. Goldfarb is part of one percent of dental professionals providing the LANAP® FDA cleared laser procedure for gum disease and periodontal treatment. Aside from being a laser practice, she also performs BOTOX and facial fillers such as Juvederm Ultra. To learn more about Dr. Goldfarb and her dental services visit her website at http://www.flossnightly.com and call (201) 374-8460.