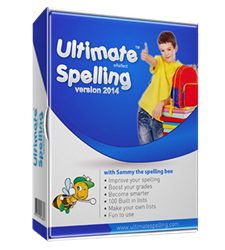 Personal brand marketing is also crucial in keeping relevant and ensuring new clients keep coming.
New York City, NY (PRWEB) April 05, 2014
eReflect and Ultimate Spelling™ welcome Elena Mutonono, a multi-talented teacherpreneur who tackles her ESL teaching business with utmost care and passion. She shares her inspiring story with readers of the Ultimate Spelling™ blog in a recently-published post. Despite starting out as a teacher at a private college, with all of that position's network of support and income opportunity, she decided to take a leap that many people fear: to become her own boss and manage her own online teaching enterprise. Mutonono is now teaching students from around the world, with classes in the ever-popular and in-demand skill of English fluency.
Elena Mutonono tells Ultimate Spelling™ blog readers how she developed her own online teaching platform through which she first found students from the former Soviet Union, and how she created her courses on the English language. As Elena Mutonono reveals in her guest post, a teacherpreneur needs qualities like organization, punctuality, web coding, and online skills in video creation, presentations and HTML, as well as a great love and passion for teaching.
Mutonono notes that teacherpreneurs need to remain on top of the shifting educational trends, such as the latest move towards online platforms and media. She shares five tips on how to start a business using a virtual teaching model, and succeed at it. She lists "finding a niche" as a key factor for English teaching success. She also points out that it's crucially important to start out by learning everything there is to know about e-learning, and the latest trends in education more generally, before launching a new business.
Blogging helps a new virtual teacher gradually become an authority in what they do, gain confidence in their capabilities, and increase their pool of prospective clients by coming across as trustworthy and professional. Personal brand marketing is also crucial in keeping relevant and ensuring new clients keep coming. As Elena Mutonono explains, self-marketing is an open-ended process; a teacherpreneur needs to make sure they stay visible and up to date if they don't want to lose their clientele.
The Internet and new technologies are changing education, from teaching spelling through software to playing spelling bees on a smartphone app to improve spelling. New technologies facilitate learning, making it accessible and affordable to a wider audience. eReflect finds Mutonono's story inspiring and hopes that anyone seeking to try their luck with this new model of teaching will learn from her example.
***********
For more information about how Ultimate Spelling software can improve spelling performance for you and your family, please visit the official website at http://www.ultimatespelling.com.
About Ultimate Spelling™
Ultimate Spelling provides a modern and easy to use spelling software that has been designed with one goal in mind – making children want to learn.
It is a fast and easy way to master even the most complicated spelling, without the need to write long lists or complete boring tests.
In fact, Ultimate Spelling provides more than just spelling help. It is a complete educational resource that boosts all level of a child's literacy.
Containing a personal computer tutor, Ultimate Spelling is the most realistic step-by-step guide to flawless spelling ability.