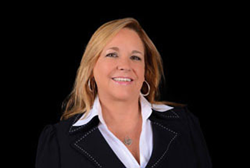 Atlanta, GA (PRWEB) March 25, 2014
Pam Wade, CCHP and Vice President of Gables Corporate Accommodations, has been named Chairman of the Board of the Corporate Housing Providers Association (CHPA), the leading organization dedicated to the corporate housing industry. Wade served on the Board of Directors from 2007-2009 and was reelected in 2012. Wade previously served as secretary/treasurer for several years.
"The success of our corporate accommodations program is due to Pam's leadership and the dedication of her team," states Dennis Rainosek, Senior Vice President, Portfolio Management. "We are proud to be a part of CHPA and their mission. Providing furnished apartment homes is an important complement to managing our own apartment communities and adds value for the owners of our third-party managed communities nationally."
Last year, the CHPA hosted the Annual Tower of Excellence Awards where it announced that Gables Corporate Accommodations received two prestigious awards - Company of the Year for companies with more than 300 units and Individual of the Year awarded to Vice President of Gables Corporate Accommodations, Pam Wade, CCHP.
With her recent naming as Chairman of the Board, Mary Ann Passi, CAE, CHPA CEO stated, "Pam brings a wealth of experience and industry knowledge to the Chairman's seat. Her previous Board experience, as well as her leadership skills, will strengthen an already strong Executive Committee. Her passion for engaging members in the Association drives her goals for the upcoming year."
Wade has been in the corporate housing industry for more than twenty years. Her experience began at the property level and advanced into management as the leader of Gables Corporate Accommodations, a corporate housing provider with national reach. Gables Corporate Accommodations has been an active CHPA member since the organization's inception. Wade and many other associates from the company actively participate on committees and task forces to support CHPA. She and her GCA management team have also earned the Association's designation, the Certified Corporate Housing Professional (CCHP), the first year it was available in 2007.
"Gables Corporate Accommodations is known for its active participation in local industry associations beyond CHPA as well, such as hospitality, travel, relocation and multi-family," says Passi. "Pam's involvement gives her a unique and balanced perspective that will help CHPA and our members grow by cultivating relationships with those that consume corporate housing."
###
About CHPA
CHPA is the only trade association dedicated exclusively to the corporate housing industry. The association continually strives to uphold the highest standards in business and professionalism; provide valuable insight, knowledge and resources to the industry; and increase visibility among related industries. Along with networking, education, certification, and information sharing, CHPA members grow their business and expand their reach through an international network of partners. Find out more about corporate or furnished apartments at http://www.chpaonline.org
###
About Gables Corporate Accommodations
Gables Corporate Accommodations is a division of Gables Residential specializing in providing furnished corporate housing nationwide. Offering a range of housing solutions for one to one hundred or to an entire corporation, GCA specializes in delivering the comforts of home and efficient solutions for temporary furnished housing. GCA combines cost-effective ideas, personal service and the simplicity of their "One Point of Contact" program. To discover more about GCA and living solutions that meet your needs, please visit http://www.gcarent.com or call 866-422-7368.
###
About Gables Residential
Gables Residential is an award-winning, vertically integrated real estate company and privately held REIT specializing in the development, construction, ownership, acquisition, financing and management of multifamily and mixed-use communities. Gables manages approximately 35,000 apartment homes and 500,000 square feet of retail space in high growth markets throughout the United States, including Atlanta, Austin, Dallas, Houston, South Florida, Southern California and metropolitan Washington, D.C. The company has received national recognition for excellence in development, management, sales, marketing, training, benefits and corporate accommodations. These achievements reflect the impact of the company's experienced and dedicated team members, superior knowledge of the markets served, and expertise in development and management.