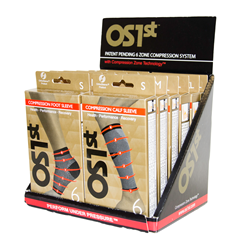 These products have always helped athletes recover faster and with less pain. We're just making that clearer now.
Hickory, NC (PRWEB) March 27, 2014
With the launch of the OS1st brand of performance compression base layer products by ING Source Ltd. (a sister company of Hickory, North Carolina-based ING Source Inc.) the popular Compression Zone Technology that has made the OrthoSleeve brand so popular worldwide gets a new look and a more targeted market approach.
"The goal with OS1st," says Barry Wright, Sales and Marketing Director at ING Source Ltd., "was to turn sports enthusiasts on to the performance and healing benefits of the FS6 and other OrthoSleeve products."
Prior to the launch of the OS1st brand, the FS6 Compression Foot Sleeve and other OrthoSleeve products had received wide distribution in the UK and other European markets primarily as a medical device, sold in health and wellness retail stores including the Boots Pharmacy chain, and by podiatrists and other medical professionals.
"Although runners, golfers, and other sports enthusiasts in the U.S. already knew OrthoSleeve as a performance product as well as a medical device, we were finding British athletes more hesitant to pick up something that looked like it was made to treat injuries," Wright states.
So, although no changes have occurred with the proven Compression Zone Technology that provides the orthopedic support and graduated compression for improved circulation, the new packaging and brand moniker are breathing new life into an already remarkable brand story.
"Perform Under Pressure - the OS1st tagline - really says it all," Wright concluded, "these products have always been able to help athletes recover faster and with less pain. We're just making that clearer now."
OS1st Compression Foot Sleeves, Calf Sleeves as well as Knee and Elbow Sleeves are all currently available at sports equipment retailers in the UK, Europe, the Middle East, and Asia.