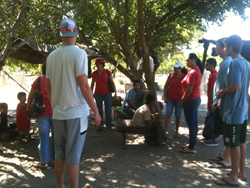 Flagstaff, AZ (PRWEB) March 26, 2014
Lead by Ixtapa- Zihuatanejo, Mexico Spanish teacher, Shirley Piñeda and surfing instructor, Edgar, Back2Basics drug and alcohol treatment center residents Kevin, Jake W. and Nick D. brought food to families living on the town's municipal trash.
"We went to [several] homes, where some family members hadn't eaten in multiple days," said Kevin. "The experience was eye opening, difficult and satisfying."
About every six months, Back2Basics staff takes current residents to Mexico to learn about the culture and language, teach them to surf and participate in community service projects.
"I think community service is import in recovery," said Jake, who celebrated his 18th birthday on the trip. "Especially addicts and alcoholics, who for so long were nothing but negative components of their community -- the chance to be a positive impact on a total stranger [can help] heal the soul."
The purpose of the trip is to peel residents out of their comfort zone. "Things can get 'comfortable' for our residents in Flagstaff, and this gives them new challenges to overcome," said Roy DuPrez, founder and CEO of Back2Basics.
Residents who are invited on the bi-annual trip have displayed leadership, trustworthiness and an honest desire to stay sober while completing the program.
"There is a high level of trust among staff for all three of us – they knew the three of us would be able to take a lot more out of this experience than just a vacation," said Nick.
After just four months in the Back2Basics program, Nick has begun to think about his future. "This community service trip helped me begin to form an idea of what direction I want to go in, in the near future. I found myself wanting to really help these people, or people in similar circumstances… it sparked something inside of me."