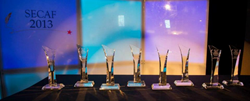 "the SECAF gala is going to be a special evening, so many people in that room have a unique and amazing story of how they have grown their business, those stories deserve to be shared and celebrated"- Craig Weisbaum, President, TalkingTree Creative
Washington, D.C. (PRWEB) March 31, 2014
On May 1st, 2014 SECAF (Small and Emerging Contractor Advisory Forum) will host their 6th annual Government Contractors Awards Gala at the Hilton in Mclean, Va. The awards gala is considered the premier commemorative event which honors small and emerging government contractors as well as the other players in the government contracting ecosystem which relies heavily on small business. As the premier organizational event for SECAF, the production and atmosphere of the event needed to be top notch. TalkingTree Creative was chosen as the supplier for the creative services needed to make the event a lasting and memorable experience. Leading up to the event TalkingTree will create custom promotional videos for the event featuring SECAF members, why they've joined SECAF, and how the organization has helped them grow their business in an competitive market. For the gala, TalkingTree Creative will provide its full service which includes services pre, during, and post event. Some of the services included were event planning, logistics, branded decor and event aesthetics, stage and set production, custom pre-produced multimedia, audio/video production, event management, video projection, live event video and lighting. Even though everyone will go home with smiles after the event on May 1st, the job isn't over for the TalkingTree team until they deliver the edited live footage to SECAF and debrief them on the event. President Craig Weisbaum said "the SECAF gala is going to be a special evening, so many people in that room have a unique and amazing story of how they have grown their business, those stories deserve to be shared and celebrated".
About TalkingTree Creative:
Talking Tree Creative is a video and event production company that creates memorable experiences and lasting impressions on screen, on stage, and online. Headquartered in Washington D.C., TalkingTree Creative has serviced clients in both the government and private sectors, becoming a leader in the event production and video production field, infusing its work with elements of creativity, entertainment, and messaging. For more information about TalkingTree Creative, please visit http://www.talkingtreecreative.com
About SECAF:
Founded in 2001, the Small and Emerging Contractor Advisory Forum (SECAF) enables the small and emerging government contractor to achieve maximum growth rates in a highly competitive marketplace. Providing members with business resources, access to influencers, government agencies, advocacy opportunities and education, the group is an important resource for a growing company. SECAF also serves the medium to large government contractors, providing invaluable introductions to specialized small businesses that enable the overall contracting community to work successfully in tandem. With more than 350 members, the organization boasts one of the highest retention rates in the Washington, DC metropolitan region. For more information about SECAF visit http://www.secaf.org.