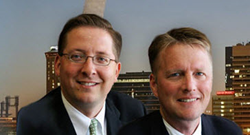 There are questions about inequality raised in House Bill No. 339.
St. Louis, MO (PRWEB) March 27, 2014
As of October 11th, 2013, Missouri law now limits the ability of uninsured motorists to make a claim after an auto accident. House Bill No. 339, as described on the Missouri House of Representatives website, states that uninsured motorists are prohibited from suing insured motorists for non-economic damages arising from motor vehicle crashes or accidents. This Bill does not apply to any injuries caused by an insured driver who was operating a motor vehicle under the influence of drugs or alcohol. Also, passengers in the uninsured driver's motor vehicle are not affected by House Bill No. 339.
Every state, including Missouri, already has a law making it illegal to drive without valid automobile insurance. These laws generally are often referred to as "financial responsibility" laws, because it may not be auto insurance, but just proof of financial responsibility, that is required.
However, there are questions about inequality raised in House Bill No. 339. "Despite the law's ultimate purpose to promote security through the purchase of car insurance, House Bill No. 339 could be seen as targeting those who are already at a financial disadvantage, since auto insurance is often a large expense," said attorneys at the law firm of McChesney & Ortwerth.
"In addition, since it is already illegal to drive without auto insurance in Missouri, this could mean an even more difficult recovery process for those who are uninsured and involved in car accidents through no fault of their own."
About McChesney & Ortwerth, L.L.C.
McChesney & Ortwerth, L.L.C., a personal injury law firm in Saint Louis, provides superior legal services to people who have been seriously injured and the families of those who have been killed by truck accidents, auto accidents, dangerous consumer products, occupational and industrial accidents, fires and explosions, and other careless or negligent acts.
The law firm of McChesney & Ortwerth has assembled a talented team of professionals with the experience, resources and desire to succeed in the most difficult cases. The firm's attorneys are genuinely compassionate and understand that their clients suffer physically, emotionally and financially. Their suffering inspires the team of McChesney & Ortwerth to fight, not only for financial compensation, but also for dignity and quality of life.
For more information about the firm, please visit http://www.gatewayinjurylaw.com or call 314.732.0482.