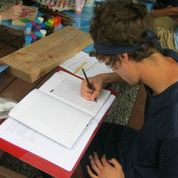 Our team members strive to help students discover their unique learner profiles, and build upon their success.
Hilo, HI (PRWEB) March 27, 2014
Pacific Quest outdoor therapeutic program for struggling adolescents and young adults, is pleased to announce that students enrolled for a typical eight-week stay have the opportunity to take six academic courses for a total of four academic credits. Students who stay longer than eight weeks will have the opportunity to earn additional Pacific Quest Adolescent Academic Program credits in Language Arts, Physical Education and Career and Technical Education. Pacific Quest may also be able to tailor a specific class to a student's individual journey and provide specialized accommodations for learning differences.
The courses offered are aligned with Pacific Quest's therapeutic curriculum, the Common Core Curriculum and National standards, providing a rounded educational experience that incorporates both academic learning and therapeutic growth. The courses will be transferable credits issued through Alta Independent, an institution accredited through the Western Association of Schools and Colleges.
Pacific Quest integrates Individualized Education Plans (IEPs) and accommodations for students learning differences, such as Dyslexia, Dyscalculia, Dysgraphia, Dyspraxia, Dysphasia and Aphasia, Nonverbal Learning Disorders, ADHD, Autism Spectrum, Asperger's Syndrome, Pervasive Developmental Disorder and others. Access to accommodations assures that students have equal access to our Student Curriculum and therefore, equal access to success.
Pacific Quest also integrates learning styles and multiple intelligences into daily activities and assessments. Suzanne McKinney, Public Relations Director and Co-founder comments, "We believe that this integration emphasizes our students' strengths and fosters their success. Our team members strive to help students discover their unique learner profiles, and build upon their success." Pacific Quest team members use both learning styles and multiple intelligences work to form a powerful and integrated model of learning - a model that respects and celebrates diversity and provides students with the tools to achieve sustainable growth.
About Pacific Quest
Pacific Quest is an outdoor therapeutic program for struggling teens and young adults, located on the Big Island of Hawaii. Their wilderness programs offer a clinical, yet holistic approach to treatment, going beyond traditional wilderness therapy and teaching sustainable life skills. Pacific Quest's proprietary therapeutic model is a groundbreaking approach that uses organic gardening to create concrete metaphors for its students as they cultivate their own health and happiness. Pacific Quest provides an environment that allows for a true discovery process for its students, a place that is safe, structured, experiential and natural. Owned and operated by a veteran team of professionals with hundreds of years of combined wilderness program experience, Pacific Quest offers a unique approach to treatment that is individualized for each student.