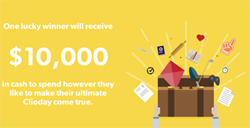 Vancouver, BC (PRWEB) March 27, 2014
What would you do with an extra day each week? Clio, the leading cloud-based practice management solution, is willing to pay you $10,000 to find out. Coinciding with the start of ABA TECHSHOW, Clio announced a contest soliciting videos from legal professionals explaining how they would spend their 'Clioday', the colloquial term for the 8 hours Clio users report saving each week simply by using Clio.
Billed as 'everything you need to make your Clioday come true', the grand prize includes $10,000 cash as well as offerings from our partners focused on providing a complete package of services and tools enabling anyone to run their own modern law firm. A full list of prizes is below:
-$10,000
-1 year free subscription to Clio
-1 year free Professional Edition from NetDocuments
-1 year free Enterprise Edition from Box.com
-1 year free subscription to ZenCash
-1 year free Enterprise Edition from Xero
-1 year free Premium subscription from Fastcase
-A free IX500 wireless scanner from Fujitsu
-A complimentary Best Practices and Technology Assessment, a Strategic Technology Plan, and a 10% discount on all services purchased in the subsequent year from Curo Legal
To enter the contest, participants are encouraged to record a short video of themselves explaining what they would do with the extra time each week afforded them by using Clio, and submit the video via http://www.clio.com/clioday or email to clioday(at)clio(dot)com by the deadline of May 31st, 2014. Extra entries can be earned by engaging with Clio via social media, or using the #Clioday hashtag to share their Clioday story.
One lucky winner will be randomly selected from entrants on June 2nd, and announced shortly thereafter. For full rules and regulations, please visit http://landing.goclio.com/rules-regulations.html.
ABOUT CLIO
Clio is a cloud-based legal practice management platform that keeps your all-important matters, contacts and documents available anywhere. If you already use other popular cloud services like Dropbox or Google Apps, Clio will make you smile by tying them together in a single, easy-to-use system. With dozens of more advanced features like terrific time-tracking, comprehensive calendaring, and beautiful billing, Clio will save you time, make you money, and help you look polished and professional to your clients.
Clio is based in Vancouver, B.C., and was founded by Jack Newton and Rian Gauvreau in 2007.
Visit http://www.goclio.com, email info(at)goclio(dot)com,, call 1-888-858-2546 or follow on Twitter @goclio.