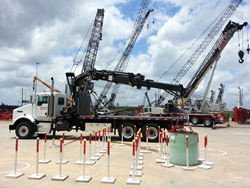 The NCCCO national crane operator certification program is recognized by the federal Occupational Safety & Health Administration as meeting OSHA's requirements for crane operator competency.
Orlando, FL & Houston, TX (PRWEB) March 31, 2014
The preparatory program and testing will be held at Crane Inspection & Certification Bureau's training centers in Orlando, Florida or Houston, Texas. For detailed information regarding registration, the schedule for the week and the fee structure, please contact CICB at 800-327-1386.
NCCCO Program Key Facts:
•The National Commission for the Certification of Crane Operators (NCCCO) is an independent, not-for-profit organization incorporated in January 1995 to establish and administer a nationwide program for the certification of crane operators.
•NCCCO has administered over 6154,00 written and practical examinations to more than 135,000 operators in all 50 states, ensuring that a significant portion of crane operators throughout the national are informed, trained and qualified.
•NCCCO program meet federal OSHA regulations and American National Standard ASME B30.
•The goals of NCCCO's nationwide certification programs include reduced risk of loss, few accidents, more consistent training, and expanded job opportunities for those work wok in and around cranes.
•CCO certification is designed to assure both industry and the general public that employees working with cranes are skilled and knowledgeable.
•NCCCO has the support of a diverse group of crane-using industries, including construction, utilities, energy, automotive, petrochemicals and pulp/paper.
NCCCO activities center on these three specific areas:
•Validating knowledge and proficiency
•Developing and administering examinations to test that knowledge and proficiency
•Issuing certification to those who meet the criteria
About CICB
CICB's state of the art facilities in Orlando, FL and Houston, TX offer modern classrooms and designated practical areas to provide the trainee with hands-on and visual learning. All of CICB's hands-on training is provided on actual cranes and rigging gear, not simulators. CICB also offers training on-site at your facility or at more than 30 locations across the United States on crane safety and operations, rigging, and inspections.
CICB was among the first crane training providers to embrace NCCCO Crane Operator Certification Programs, and has a 19 year history of providing preparatory classes for those seeking their NCCCO Certifications.
CICB's professionally trained instructors and subject matter experts are not only NCCCO Certified as Mobile, Overhead & Articulating Cranes Operators, but are also CCO Certified Riggers, Signalpersons, and Crane Inspectors. All of CICB's trainers are also NCCCO accredited Practical Examiners. CICB's instructors have been awarded the prestigious Top Trainer Award in 2013, 2012, 2011 and 2009.