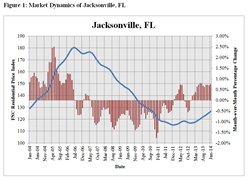 Oxford, MS (PRWEB) March 27, 2014
Home prices in the Jacksonville, FL, metropolitan statistical area increased in January by 0.74% as indicated by the FNC Residential Price Index™ (RPI), marking the 13th consecutive month of appreciation for this market. Also, the Jacksonville market increased 8.01% from January 2013, marking the 20th consecutive month of year-over-year gains. Despite recent growth, this market is still 15.85% below its January 2009 value. Furthermore, single-family home sales dropped 6.28% from January 2013 and the percentage of distressed single-family homes climbed to 35.30%, an increase of 31% from December 2013's number of 27.04%.
FNC's RPI is the mortgage industry's first hedonic price index built on a comprehensive database that blends public records of home prices with real-time appraisals of property and neighborhood attributes. As a gauge of underlying home values, the RPI excludes final sales of real-estate owned (REO) and foreclosed homes, which are frequently sold with large price discounts, likely reflecting poor property conditions.