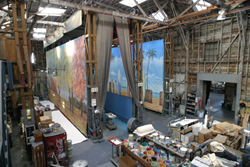 We're thrilled to help highlight the talent of Illinois students.
Chicago, IL (PRWEB) April 17, 2014
Hollywood-based Grosh Backdrops and Drapery proudly helps usher in the next generation of theater actors by sponsoring Broadway In Chicago's second annual Illinois High School Musical Theater Awards, April 25th.
The IHSMTA are the Illinois chapter of the National High School Musical Theater Awards. The IHSMTA is a celebration of outstanding student achievement in high school musical theater. The program recognizes individual artistry in vocal, dance and acting performance, as well as honors teachers and their schools commitment to excellence in performing arts education. Grosh Backdrops and Drapery, along with Broadway in Chicago are committed to emerging performers. "We're thrilled to help highlight the talent of Illinois students," said Rick Kiel, Grosh Backdrops and Drapery General Manager.
12 actors and 12 actresses will receive tickets to a Broadway in Chicago Show, perform on stage at the Broadway Playhouse and compete in front of Chicago casting agents and theater professionals for top honors. From the 24 finalists, one Illinois actor and actress will represent the state at the National High School Musical Theater Awards on Broadway in New York City this summer.
In addition, Grosh will provide the award-winning high school with one or more backdrops for the upcoming year's musical productions. "We all remember our first high school production," said Kiel. "Having a pro make the backdrop raises the bar of the production, and the confidence of the actors and supporting crew. It also saves the school a lot of time, money and stress."
Grosh Backdrops and Drapery is Hollywood's longest supporting partner. For 85 years, Grosh has constantly worked to improve how scenery comes to life in the theater by evolving with the industry. Whether a production needs a forest landscape, New York City Buildings, or a ship for Peter Pan, Grosh can make it on deadline and within your budget.
Grosh works with productions of all sizes across the country. On April 17, Grosh will sponsor the Georgia High School Musical Theater Awards, and in June, The Jerry Herman Awards honoring high school musical theater in Los Angeles. Grosh is also honored to be working with productions in Las Vegas, including Pat Benatar, Raiding the Rock Vault, as well as stunning scenes for South Ballet's rendition of Peter Pan.
Founded in 1932 by R.L. Grosh, the company has been the industry leader in providing backdrop rentals, custom backdrops and stage curtains for theaters and performances all over the United States. In addition to backdrop rentals, Grosh also is the creator of the "Backdrop LIFT." The revolutionary telescoping lift and truss system expedites stage backdrop setup time. The company also launched its new custom, hand painted backdrop division which designs and executes custom backdrops and murals. For more information, please call toll free: (877) 363-7998 or visit http://www.grosh.com or http://www.groshcustom.com.
You can also contact Shawn Glaspell at the Spencer Lewis Marketing Group at 909.945.5247. http://www.spencerlewis.com.