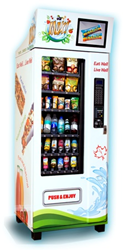 With the remote monitoring reports, I have exactly what I need when I visit the sites.
Vancouver, BC (PRWEB) March 28, 2014
It's 7:30 am and although he hasn't yet finished his morning coffee at home, Rob Gaskell of Max Snax, an Ottawa operator of a MAX! Canadian Healthy Vending business, has already read his vending sales report for the previous day and received customer product requests from his more popular locations. Armed with detailed reports on the specific products and numbers his machines have vended, Mr. Gaskell is able to make every service visit to each of his 23 machines useful. He is efficient as he arrives at locations, carrying with him only the products he requires. Mr. Gaskell reports, "With the remote monitoring reports, I have exactly what I need when I visit the sites. No unnecessary visits and no guessing."
Gone are the days when servicing a vending route meant a never-ending series of surprises requiring frequent return visits to locations and either not having enough of certain products or having excess quantities of the wrong items. Telemetry is an advanced remote monitoring feature that enables MAX! operators to function with the on-location accuracy of a brick and mortar business minus the high overhead.
Mr. Gaskell admits, "I never envisioned getting into the vending business until I heard of the remote sales monitoring potential offered in the MAX! Centres." MAX's USA Technologies-supplied ePort telemetry units now offer product-level reporting. The previous system used column mapping which wirelessly transmitted the location of the vending coils as sales took place. Now, enhanced column mapping reports on the specific products associated with each coil. The machine operator no longer has to make notes about which products are loaded onto each set of coils. The reports are accessed via the web or emailed directly to the operator.
The MAX! Menu, an additional automated feature of Canadian Healthy Vending machines, allows customers at each site to choose from a vast array of products and send those requests directly to their local MAX! operator. Each machine location has the potential to provide exactly what its most frequent users want for healthy eating away from home. Among the options are snacks and drinks that are low calorie, vegan, gluten-free or whole grain.
Another advance in vending machine technology will be the acceptance of payments by debit cards and mobile devices such as smart phones. Many industry analysts expect these payments to be used for a major percentage of sales once the already rapidly developing infrastructure comes into place. Mr. Gaskell: "Acceptance of credit cards and remote monitoring brought me in; the future possibilities of mobile payments and Interac debit payments sealed the deal."
As these technologies develop, the disadvantages that vending route operators have experienced compared to traditional retailers—remote locations, inability to predict stock in machines—promise to be erased, with the increased efficiency resulting in greater profits.
About Canadian Healthy Vending
Canadian Healthy Vending is a Vancouver-based vending equipment manufacturer and distributor with over 23 years experience in the Canadian vending industry and is the manufacturer of the MAX! Healthy Vending Machine. Our Mission is to get healthy snacks and nutritious drinks into the hands of Canadian workers and students in every city and province across the country. The state of the art MAX! Healthy Vending Machine features both cash and cashless payment systems in addition to a high resolution display monitor, which provides nutritional information on product offerings, and information on community health initiatives. Get more information at canadianhealthyvending.com. Or get a MAX! Healthy Vending Machine at your location.