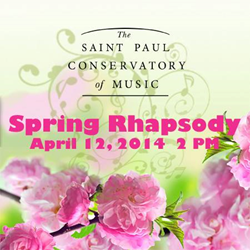 Saint Paul, MN (PRWEB) April 01, 2014
The Saint Paul Conservatory of Music is welcoming spring with three enlightening concert events. People of all ages are invited to the Coffee Concert taking place April 2, the Spring Rhapsody on April 12 and the SPCM Adult Recital on April 16.
The Saint Paul Conservatory of Music Coffee Concert: From Mystery to Bach will be held in the Baroque Room located at 275 East 4th St., Ste 280 in Saint Paul, MN, 55101 on Wednesday, April 2. The concert will take place from 12-1 p.m. and admission is free. The concert will feature Jin Kim on baroque violin, Julie Elhard on viola da gamba and Paul Boehnke on harpsichord performing works by Biber, Buxtehude and Bach.
The SPCM Spring Rhapsody will be held at Sundin Music Hall at Hamline University located at 1531 Hewitt Ave. in Saint Paul, MN on Saturday April 12. The event will run from 2-5 p.m. and admission is also free. The Spring Rhapsody is a celebration of the Conservatory's musical community, showcasing students and faculty, a guest choir from ComMUSICation and emcee, Randall Davidson. Free will donations will benefit the SPCM Music for All program, supporting financial aid and outreach programs to bring music to everyone in our community.
There will also be an SPCM Adult Recital at 6:30 p.m. Wednesday, April 16 that will be held at 26 Exchange St., Suite 500 in Saint Paul, MN 55101.
The Conservatory is excited to share the musical aspirations of its students with the community and has been doing so for nearly 25 years. The Saint Paul Conservatory of Music motto is "Enriching lives through the joy of music." These enriching performance opportunities are just a few of many to come for students, faculty and guest performers.
To learn more about the upcoming events taking place with The Saint Paul Conservatory of Music, visit http://www.thespcm.org/.
About the company: The Saint Paul Conservatory of Music is a music education center offering a wide range of musical instruction for all ages, in both individual and group settings. The faculty is of the highest caliber, including artists/teachers with well-established reputations. The Conservatory has systematically developed a music program with demanding, yet age-appropriate expectations, with the ability to effectively teach the youngest of students as well as prepare those seeking to become music majors. They are also able to meet the needs of students who are lifelong learners of music and music appreciation.
Since 1985, the Saint Paul Conservatory of Music has provided high quality music education to the metropolitan community. Originally under the auspices of The University of St. Thomas, the school became an independent non-profit community music school in June 2001. The facility in downtown Saint Paul provides an exciting venue for the continuing commitment to providing excellence in music for all ages. As an independent organization, they are able to broaden their mission as a music school ensuring that quality music is available to an ever-widening segment of the community.