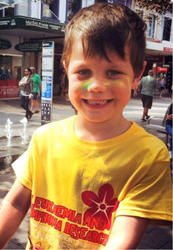 I definitely intend to have t-shirts printed in the future, and of course will be using Garment Printing with designs by Leslie Nemes.
London, Barcelona, Berlin (PRWEB UK) 31 March 2014
Garment Printing is known for its involvement in charities, especially since launching its price beat promise for charities in August 2013.
One happy customer taking advantage of this opportunity is Ed Jones, who was diagnosed with Chronic Myeloid Leukaemia in March 2006. Jones initiated the MK Leukaemia Concerts for Leukaemia & Lymphoma Research. The concerts take place annually, and this year for the first time, Jones decided to sell t-shirts in order to increase donations.
Celebrity musician, Leslie Nemes, former bassist of 80s pop band Haircut 100, now runs his own t-shirt design company, Monographics, and was keen to work with Jones on the designs. Garment Printing successfully brought four of Monographic's amazing designs to life on t-shirts. For best quality and to ensure brilliance of colours, the direct-to-garment technique has been employed.
"From the initial telephone conversation, the Garment Printing staff patiently guided this novice charity t-shirt seller through the order process expertly," explained Jones.
"What initially attracted me to their quote was the fact they offered a best-price guarantee, and a discount for a charity order in bulk. Since then, I've been completely satisfied by delivery, which has been highly organised and punctual. The 100% cotton t-shirts have proved very popular with the attendees of my Milton Keynes Concert in aid of Leukaemia & Lymphoma Research," continued Jones.
The concert takes place on 5th April at Shenley Leisure Centre, Milton Keynes and is headlined by 50s and 60s cover band, Breathless with support from rock band, Roadworn and pop band, The Enigmas.
To date, Jones has raised over £21,500 for leukaemia and lymphoma research through the Milton Keynes concerts. Last year's concerts raised a landmark £4,300. Garment Printing wants to help Jones to make this year's concert even more successful by donating £25 for every 50 t-shirts sold.
The successful cooperation with Garment Printing and Leslie Nemes opened new possibilities for Jones to support his cause:
"I definitely intend to have t-shirts printed in the future, and of course will be using Garment Printing with designs by Leslie Nemes."
Leukaemia & Lymphoma Research is a leading UK charity dedicated to improving the lives of patients with all types of blood cancer, including leukaemia, lymphoma and myeloma. The charity first started research into blood cancers in 1960. They are now leaders in their field and patients are benefiting from their ground-breaking research today - and in the future. Visit the Leukaemia & Lymphoma Research website for more information.
About Garment Printing
GarmentPrinting.com is an industry-leading international promotional and customised clothing company that aims to maximise the efficiency of marketing teams and agencies through its integrated, global supply chain. The business was founded by CEO Gavin Drake who has 15 years experience in the industry and has worked with global brands such as Mindshare, Coca Cola, Skype, Google and Saatchi & Saatchi. Garment Printing offers a complete range of bespoke personalised t-shirt printing techniques including screen printing, embroidery and the latest direct-to-garment t-shirt printing technology combined with express turnaround and excellent customer service. Garment Printing's agency work involves consultation with global brands, marketing teams and promotional agencies to ensure all printed clothing campaigns are realistic, within budget and effective. Its dedicated team act as extended members of the client's business to efficiently exceed customer and client expectations. For more information visit http://www.garmentprinting.com.