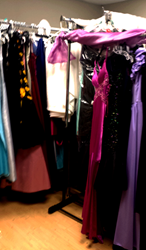 Gastonia, North Carolina (PRWEB) March 31, 2014
Planet Aid was proud to be a supporter of Dream Center of Gaston County's 2014 Cinderella Day, an event that provided teens in need with dresses and accessories to make their Prom Night an evening to remember.
Over 50 young girls assembled on Saturday at Bethlehem Church in Gastonia where they picked out donated shoes, purses, jewelry, and prom dresses.
"It was a really beautiful experience," said event facilitator Cassandra Farmer. "There were lots of smiles, lots of hugs, and tears of joy."
Planet Aid donated 18 pairs of brand new glitter pumps and two large boxes of sequined tops and skirts.
"I feel like this was a great experience," one participant said of picking out her black prom dress. "And it fits really good."
Planet Aid's Northern New England branch will also be making clothing donations to the Faith, Hope and Love Foundation's upcoming "Gowns for Girls" event on April 12 in Meredith, New Hampshire, which allows girls to take home prom dresses at no cost to them.
Planet Aid is a nonprofit organization whose mission is to inform, mobilize and inspire individuals and communities to work together to bring about worldwide environmental and social progress. It is incorporated under the laws of Massachusetts and recognized as a tax-exempt charity under IRS code 501(c)(3). For more information on Planet Aid and its work, visit planetaid.org.