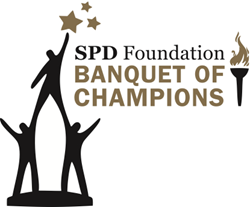 Our champions have demonstrated their dedication to helping children with SPD and it's nice to have an opportunity to recognize that dedication and commitment.
Denver, Colorado (PRWEB) March 28, 2014
The Sensory Processing Disorder (SPD) Foundation held its Olympic-themed Banquet of Champions at the Inverness Hotel in Englewood, Colorado on March 14, 2014. Award recipients were chosen for carrying the torch of passion and inspiration for sensory processing disorder research and education. This special event is a fundraiser benefitting the SPD Foundation in its mission to provide hope and help for children with sensory processing issues. Festive elements throughout the evening included the ambience, entertainment, live music by Coles Whalen, silent auction, photo booth, gourmet dinner and awards ceremony.
Heroes Honored at the SPD Foundation's Banquet of Champions
Landscape Structures was awarded the Champion of Partnership for donating playground equipment for the "The World's Best Sensory Playground" at the STAR Center and SPD Foundation. The playground equipment is used as a therapy tool for children, and is a key component for the SPD Foundation's Equipment Effectiveness Research which tracks and codes the physical skills and social interactions of children with sensory processing challenges. Landscape Structures, headquartered in Delano, Minnesota, is one of the leading manufacturers of commercial playground equipment in the world. They have installed over 75,000 playgrounds worldwide.
Kahn Construction was awarded the Champion of Partnership for donating their time and expertise to ensure the overall success of installing the Sensory Playground. Kahn Construction was a vital partner in site evaluation, preconstruction services and construction administration for the playground project. Kahn Construction is a general contractor located in Centennial, Colorado.
Dr. Edward Goldson, who is affiliated with the University of Colorado School of Medicine and Children's Hospital Colorado, was awarded the Champion of Passion due to his unyielding efforts to educate others about SPD, his years of support to the foundation, and his compassion and devotion to advocating for children. The focus of his clinical and research activities has involved children with special health care needs and disabilities.
Pat Peitro, owner of the family Thrift Center in Wheat Ridge, Colorado, was awarded the Champion of Inspiration for his commitment to helping the SPD Foundation and being such an ardent supporter. Pietro loyally served his country in Vietnam and firmly believes in giving back to the community.
Kathryn E. Miller received a surprise Founder's Award for serving as an inspirational leader and tireless board member for the SPD Foundation. Since 1980, she has generously given her time and talents in such a way as to contribute significantly to the foundation's progress and growth of the board of directors. Miller is an extraordinary person who shows her heart through her giving of time and resources to countless causes including elders' rights, women's rights and disenfranchised populations. She is actively involved in supporting Special Olympics by coordinating downhill skiing events on weekends. Miller began her legal career with Holland & Hart, primarily emphasizing employment and labor law. Since 1985, she has been with Miller & Steiert P.C., representing both employers and employees in workplace disputes.
"The SPD Foundation is truly honored to present such well-deserved awards," said Sheryl Benjamin, Executive Director. "Our champions have demonstrated their dedication to helping children with SPD and it's nice to have an opportunity to recognize that dedication and commitment."
"It was an absolutely amazing feeling to be able to share the evening with such outstanding supporters of the SPD Foundation," said Tim Hoyman, President. "This banquet celebrated remarkable individuals who personify what it means to give back to the community."
About Sensory Processing Disorder Foundation
The Sensory Processing Disorder (SPD) Foundation, a Colorado 501(c)(3), is the world leader in research, education, and awareness for Sensory Processing Disorder, a neurological condition that disrupts the daily lives of more than 4 million Americans. The SPD Foundation offers educational programs, conducts SPD research, and provides resources for parents worldwide. Dr. Lucy Jane Miller, widely recognized as a leader in SPD research worldwide, founded the SPD Foundation in 1979. The SPD Foundation provides hope and help to individuals and families living with SPD. For more information, visit SPDFoundation.net or call 303-794-1182.