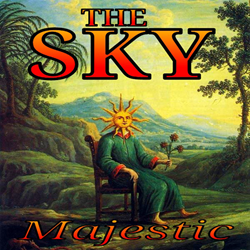 Los Angeles, CA (PRWEB) March 31, 2014
Founded in 2010 by veteran rock vocalist/songwriter Robert Fleischman (Journey/Vinnie Vincent Invasion), The SKY continues to bring music fans a perfect balance of both classic American Rock & Roll and Indie/Brit-Pop with the release of Majestic, which comes just three years after the release of The SKY's self-titled debut album.
The SKY features Robert Fleischman (vocals); Ryan Lake (guitars); Andre LaBelle (drums); Steve Barber (bass guitar) and Brady Cole (guitars). Together, this talented group of musicians create their renowned Rock and Roll tracks through high-octane guitars, solid drums grooves, and thought provoking lyrics, all fronted by Fleischman's charismatic vocals.
Majestic is a strong follow up to the band's first album, maintaining some of the original gritty guitar chords from "The Real Beat" and "Dancing In My Head," into tracks like "One Day," but also incorporating more psychedelic and dreamy melody lines into the choruses on songs "In My Head" and "Poison Little Fingers." These sophisticated, modern, and lively songs continue to embody the band's passion for the words and music they have created, and are often noted as being in the spirit of bands including The Beatles and The Rolling Stones.
"I didn't care if it rocked, as long as it was a great song, and I think we have that with Majestic. Play it loud!" – Robert Fleischman
Probably best known as the lead singer of legendary rock band Journey (for which he received a star on the Hollywood Walk of Fame) between the albums Next and Infinity, Robert Fleischman also co-wrote one of the band's biggest hit songs, "Wheel In the Sky" (#57 on the Billboard Hot 100) as well as the tracks "Anytime" and "Winds of March." Fleischman appeared with the Vinnie Vincent Invasion, featuring ex-KISS guitarist Vinnie Vincent on their self-titled album and the unreleased album "Guitars From Hell," and was in the band Channel on Epic Records in 1983. Fleischman is also known for scoring soundtracks for TV and film - his ambient scores can be found on his 2004 solo albums Kinetic Phenomena and Electric Raindrops.
The SKY begin their US tour June 6th in Florida.
For additional information please visit: http://www.theskyofficial.com
To preview Majestic, please click here.
# # #
About BFM Digital, Inc.
BFM Digital is a global digital music company committed to serving the independent music community and delivering quality music, spoken word and video content to leading online retailers worldwide. Representing a diverse catalog of indie labels, artists and publishers, BFM distributes to all of the major music services including iTunes, Amazon, Rhapsody, eMusic, Napster, Walmart, Nokia and many more. With an unparalleled commitment to personalized service, BFM works closely with their content providers from around the world to ensure maximum exposure of their catalog by customizing marketing efforts and building strong relationships with BFM's digital store partners.