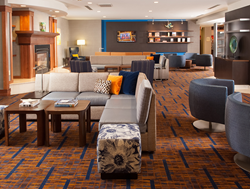 Gastonia, N.C. (PRWEB) March 31, 2014
JHM Hotels announces the completion of its renovation of the Courtyard by Marriott Gastonia today. The renovation project which was completed in February 2014 included the redesign of the lobby as well as the addition of a Bistro which serves Starbucks Coffee, a theater area, business center and new outdoor fire pit that will create the perfect atmosphere for weddings or corporate events. With over 2,300 sq. ft. of indoor meeting and event space that has been updated to match the new design, Courtyard by Marriott Gastonia is your go to venue for meetings, corporate events and weddings.
The Courtyard by Marriott hotel in Gastonia knows what is important to today's business and leisure travelers. Come experience Courtyard by Marriott's high standards of service with beautiful guest rooms, which feature a customer-focused residential design that allows guests to be more comfortable and productive with a touch of Southern Hospitality. Courtyard Charlotte Gastonia features spacious guest rooms equipped with large work desks, plush carpeting and seating including sofas, chairs and ottomans. While you are there take a few laps in the indoor pool, relax in the whirlpool, or have a quick workout in the newly updated fitness room.
An event to celebrate the completion of the renovations will take place on April 17, 2014. Both JHM Corporate executives and local dignitaries will be in attendance and welcome all neighbors of the community to join us in the Celebration unveiling the hotel refresh. "It's a new stay" for Gaston County. Come experience the Courtyard by Marriott difference first hand.
About Courtyard by Marriott Gastonia:
Courtyard by Marriot Gastonia, a 124 room hotel, is located in Gastonia, N.C. in the heart of Gaston County where it is easily accessed by Interstates 85 and 485. Just minutes from the Charlotte International Airport, Lowes Motor Speedway, U.S. National Whitewater Center and Daniel Stowe Botanical Gardens, it features a newly redesigned lobby, dining and business center as well as a Starbucks Bistro. For reservations, please call 704-852-4411.
About JHM Hotels:
JHM Hotels, a premier lodging company, based in Greenville SC, has developed, acquired, owned, and operated hotels throughout the United States for 40 years. The company currently owns and operates 41 hotels with over 7300 guestrooms, located in the United States and India, operating under such well-known brands as Hyatt, Marriott, Hilton and Starwood.