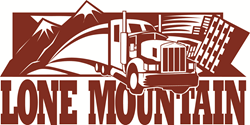 Earlier this year, we rolled out a pilot program focused on the 2015 Volvo 670
Omaha, NE (PRWEB) March 31, 2014
Lone Mountain Truck Leasing announced that they recently began purchasing new trucks to put into their lease purchase program. Historically, Lone Mountain has focused on leasing used trucks coming out of the larger fleets to individual owner-operators. With the gradual increase in the price of used trucks over the past 18 months, they believe that there is now a larger market for individuals looking for new trucks. "Earlier this year, we rolled out a pilot program focused on the 2015 Volvo 670. Given the success of that program, we decided to additionally offer our customers the 2015 Peterbilt 389 and the 2015 Freightliner Cascadia," said General Manager Joe Hoovestol.
Typically, financing of late model trucks for owner-operators can be complex if not completely inaccessible. Lone Mountain has always offered a straightforward lease purchase deal consisting of a down payment and fixed monthly payments with no balloon or buyout at the end of the lease term. After the last payment is made, the customer is sent the title to their truck. The company plans to continue this straightforward approach with their new line of trucks.
The initial offering from Lone Mountain consists of 2015 year model trucks from a variety of manufacturers including Peterbilt and Volvo with Freightliner trucks coming later this summer. All of these trucks will include a 500k mile factory warranty which covers customers through a majority of the lease. Though Lone Mountain is entering this new market, they will continue to offer a wide variety of pre-owned trucks as they always have in the past.
About Lone Mountain Truck Leasing:
Lone Mountain Truck Leasing, LLC has a leading class 8 truck lease-purchase program. Lone Mountain operates independently from truck manufacturers and offers a wide selection of makes and models. The trucks are typically three to five years old and range from 300k to 600k miles. Using their knowledge of the trucking industry to identify non-financial indicators for individual success, Lone Mountain is able to finance owner-operators when other forms of financing may not be an option when evaluated on credit score alone. Since the program is not sponsored by a fleet, customers are able take their truck to the carrier of their choice or run independently with their own authority.