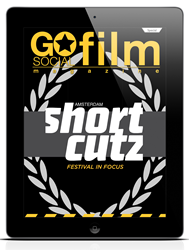 Shortcutz Amsterdam is right at the center of the short film world in Holland.
San Francisco, CA (PRWEB) April 02, 2014
As part of its continuing Festival In Focus series, Go Social Film Magazine this month directs the spotlight towards "Shortcutz Amsterdam", the year-long short film festival which takes place weekly each Tuesday in the heart of Amsterdam to celebrate Dutch short films and emerging national talent.
The current issue showcases three of Shortcutz Amsterdam's January 2014 competition winners and the auteur directors who created them, "Flirt" dir. Gabriel Bauer, "Canvas" dir. Chiel Aldershoff and "Wednesdays" dir. Aaron Rookus. These talented directors share behind-the-scenes stories about the production of their films as well as personal insights on the Dutch short film industry. In addition, the magazine presents all three winning shorts for readers to view from within its digital pages on their mobile devices.
"Shortcutz Amsterdam is right at the center of the short film world in Holland. They are helping to bring recognition to a new generation of Dutch film talent." - Jason Rogan, Artistic Director, Go Social Film Magazine
Festival founders, Portuguese natives Alexa and Joao Carlos Rodrigues, are introduced to Go Social Film readers through a personal and inspiring interview, and insights into the festival voting process is given via an entertaining interview with jury member and well known Dutch actor, Vincent Van Ommen.
"As a project aiming to promote the best up-and-coming talent, their great short films and increase the audience for Dutch film productions, Shortcutz Amsterdam is thrilled to be featured in Go Social Film. It's a great opportunity for the filmmakers we promote, since they'll be able to reach a far wider audience beyond Dutch borders." - Alexa Rodrigues, Shortcutz Amsterdam Co-Founder
Full length Shortcutz Amsterdam films featured in this issue:
"Wednesdays", Director Aaron Rookus - Winner "Best Film", "Best Director"
"Flirt", Director Gabriel Bauer - Winner "Best Actor"
"Canvas", Director Chiel Aldershoff - Winner "Best Documentary"
Film fans can join the Shortcutz Amsterdam community on Facebook here:
http://www.facebook.com/ShortcutzAmsterdam
Go Social Film Magazine is "iPhone, iPad and Android Ready" and available worldwide for free download from the iTunes Store http://www.iPadFilmMag.com, and Google Play http://www.iPadFilmMag-Android.com.
About Go Social Film Magazine:
A unique combination of digital magazine and short film distribution platform, Go Social Film provides an immersive film viewing experience to its mobile audience on the iPad, iPhone, and Android mobile devices. Each month, readers are treated to a selection of short films streamed directly to their mobile devices, along with filmmaker interviews and behind the scenes material revealing how the films were made; all from within the pages of magazine.
"Bringing You The Best Short Films From Around The World, Straight To Your iPad, iPhone and Android device" Go Social Film Magazine is published by Go Social LLC. Go Social Film Magazine's mission is to seek out talented international filmmakers with unique and compelling short films, and bring them to a global audience via the iPad, iPhone and Android mobile devices.
For more information contact Nadzeya Huselnikava at nadzeya at gosocialfilm dot com or visit their website at http://www.GoSocialFilmMagazine.com.