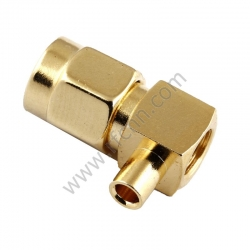 (PRWEB) March 30, 2014
Recently, RFcnn.com, a prestigious supplier in the electrical equipment field, has unveiled its new selection of SMA RF connectors. In addition, the company has announced big discounts (up to 30% off) on these new items this morning.
RFcnn.com is now striving to make its connectors available in more specifications. The company understands that the internet is the primary platform where clients can get the latest information about its products, so it updates its online category every week. Owing to its top quality electrical and considerate service, the company won numerous frequent callers; any of them are happy with what they receive.
"We are excited to announce our latest version of SMA RF connectors. To help worldwide distributors to save money, we are now launching a big sale. Our newly revealed connectors are specially designed for the global distributors. I think it is our obligation to help distributors from all over the world. In the near future, we will continue to make more useful items. Please note that the special offer will last until April 18," the sales representative of the company says.
What's more, the company frequently offers big savings for new and old clients. It wants to save valuable time and money for all people.
About RFcnn.com
RFcnn.com is an online shop of high end devices. It is a China based company that aims to provide customers with high quality products at the lowest possible prices. Customers can try the company's products through sample orders with a long-term contract. Most customers come back soon after receiving their first deals.
More details about the company's useful products can be found at http://www.rfcnn.com/SMA-Male-Crimp-Right-Angle-for-RG405-RF-Connector-129.html.