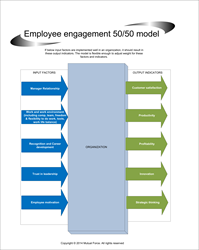 This model can be compared to a complex chain chemical reaction. If input factors (employee engagement factors) are implemented correctly, it can result in predictable product (organization success).
Warren, NJ (PRWEB) April 01, 2014
A balanced approach to employee engagement is needed because focusing on few factors like recognition, career development, relationship with managers, etc may provide employee engagement a boost in the short run but might hurt the company in the long run if other factors are not considered or ignored. This model ensures that both the employees and the organization can benefit from employee engagement programs. Although changing the culture is something an organization can consider but focusing only on changing culture (genes of an organization) might just prove too time consuming to make a business case, not measurable, a vain attempt (a culture which works for a company like Zappos or Google may not be a culture which might fit any organization) and most may end up giving up on this initiative. Subcultures within a culture of large organization can also pose big problems. Rather than trying to change culture, it is better to focus on things which can be measured and together makes the culture of an organization.
This model can be compared to a complex chain chemical reaction (organization). The reactants based on conditions (input in our model) in a complex chemical reaction goes through series of reactions to form the final product (output in our model). The conditions such as temperature, pressure, etc can determine the rate of reaction and the final product.
The employee engagement 50/50 model is created based on two things:
1. Review of existing models, research data and understanding of what actually worked in the long run.
2. Most importantly, years of experience running all types of organizations successfully.
For an employee to be engaged and this engagement meaningful to an organization, two things needs to happen. Employees need to be engaged with their work (input) which should result in good organization health (output). Both has equal weight to determine the level of employee engagement. When one or both happens disproportionately, there are engagement issues. Factors which affect employee engagement (input) if implemented well should result in good indicators (output) of organization health.
Lets take few examples:
1. Employees in organization X are not productive and customers are not happy. But employees are happy with their managers, their compensation and flexibility at work. This is not great employee engagement as this organization is not productive, customers are not happy and hence most likely may not be profitable in the long run.
2. Employees in organization Y are not engaged with their work or compensation or the way managers treat them or there is no flexibility. This organization is still productive because managers do some heavy lifting and deliver projects on time. Its customers are still happy because they like the product although customer service is not that great. Here, there is no employee engagement. Employees can leave the organization and it may suffer in the long run.
3. Another example is where in organization Z, employees are not engaged, the organization is not productive and its customers are not happy as well. Well, the survival of this organization is truly questionable.
4. Ideal scenario is where in organization A, employees are engaged with their work and organization is healthy as well. There are high chances, the organization is doing well, innovating and profitable.
Based on the model, equal weight of 50 points each (each point is just a relative number) is assigned to employee engagement (input factors) and to organization health (output indicators) at each employee or team level.
Employee engagement (input factors):
Manager relationship (including regular feedback and coaching from manager) – 10 points
Work and work environment (Work life balance, flexibility, tools to do the work, team members, freedom to do your work, career development and opportunity to grow) – 10 points
Recognition – 10 points
Financial and trust in leadership (compensation, trust in senior leadership, transparency and strategy of the group (should align with the organization strategy) – 10 points
Employee motivation - 10 points
Organization (Group/ team) health (output indicators):
Customer happiness – 10 points
Productivity – 10 points
Strategic thinking of group or organization – 10 points
Profitability – 10 points
Innovation – 10 points
So, each of the employees in an organization is fully engaged as the sum total for all above factors (input) and indicators (output) comes close to 100. It is important that the scores are higher than 5 (better than average) for each of the above factors to reach a good level of engagement. Of course, this model simplifies a lot of things. It needs to be simple to have any meaning and actionable to an organization.
Culture and pride are to most extent results of above factors (at least has correlation) like freedom to do your work, relationship with the managers, innovation, productivity, customer happiness, strategic thinking and other factors we discussed above.
This model is flexible enough so that more factors can be added to employee engagement and organization health totaling 50 points each or increase or decrease the weight assigned to each of these factors. The flexibility is needed because each organization is different. As an example, innovation might carry a higher weight for a product organization like Apple than an organization which belongs to a government agency. Also it depends on whether the employee belongs to Generation Y, Generation X or a baby boomer. Alternatively, an organization can use the model as is to get a close measure of level of engagement. Also note that when organization health is discussed here, it is more at the group level for large organizations where an employee works.
With this model handy, how does an organization go about creating an engaged workforce and hence more healthy company? It is better to get feedback from employees regularly on above factors and how it can be improved. Action planning process should be short. Follow up with actions based on the feedback. Provide incentives (not monetary) to managers to implement the actions resulting from action planning process. Learn about Mutual Force's new, next generation and innovative employee engagement and leadership development platform Pulse here which is based on this model. Learn more about this model here.
About Mutual Force: Mutual Force provides an innovative technology platform for leadership development and employee engagement called Pulse (Patent pending). Think of Pulse as a tech platform for real-time employee suggestion box + experiential and collaborative leadership training + replacement of annual surveys and leadership trainings. Pulse is a continuous feedback, suggestions and ideas platform which focuses on action to improve employee engagement and productivity. The same platform also helps in leadership development when these actions are implemented through experiential training by managers providing them the challenge and incentive to implement actions. Learn more about Mutual Force here. Learn about Pulse here which is based on this model. Learn more about this model here.